Mom's Meals: Simona Goldin, Stuffed Peppers and Tomatoes
We stuffed our peppers and tomatoes with meat and rice; for Simona Goldin they are stuffed with memories. When her childhood nanny, a German woman named Christa, came to Goldin's family after working in Greece, she brought with her memories of Mediterranean recipes. This dish holds a special place among those; for Goldin, stuffed peppers and tomatoes meant arriving at home.
"Anytime I'd come back from visiting my father, it was always there," Goldin said. "Stuffed peppers and tomatoes was the homecoming meal."
Goldin would also visit Christa's former employer in Athens and find the dish waiting. "I would stumble into the kitchen in this country that wasn't mine and I would open up the fridge and every time somewhere in the fridge would be a tinfoil-covered big lasagna pot filled with stuffed peppers and tomatoes," she said. "I would devour half of it standing at the fridge cold."
Today, when Goldin cooks for her family, she doesn't use a recipe. She doesn't know how closer her version is to Christa's, but it doesn't matter.
"To me, the dish always tastes like itself," Goldin said. "There are these major things that I swap in and out and for other recipes I would think that these changes or shifts would fundamentally change the dish but there's something about this dish where it always remains the same."
The lamb is sometimes beef, the mint can be dill, the pine nuts make it in less than half the time and the amount of wine has never been the same twice. The balance, brightness, simplicity and elegance never falter. Vegetables carrying rice and meat have a nutritional and visual completeness and the wine and tomato sauce brings the components together in taste and in texture.
Closed eyes, inhaling the aroma, it's easy to tell that there's something more to this meal than the sum of its parts. Cooking with ingredients is one thing, cooking with memories is different entirely.
"It always makes me happy… there's no depth, it's just a pure happiness," Goldin said. "It's a belonging."
Stuffed Peppers and Tomatoes
recipe as remembered by Simona Goldin
2 cups basmati rice
3 cloves garlic
1 red onion
3 tablespoons olive oil
2 lbs ground lamb
1 handful fresh mint
8 vine tomatoes
6 bell peppers
½ cup pine nuts
1 lb fingerling potatoes
1 can diced tomatoes
1 ½ cups red wine
4 tablespoons olive oil
½ tablespoon of oregano
Preheat oven to 350º F. Bring a large pot of water to boil and gently add washed potatoes. Lower heat and simmer for 20 minutes.
Bring 4 cups of water to boil. Add basmati rice, stir once, lower heat, cover and simmer for 10 minutes.
Add 3 tablespoons of olive oil to a large pan or wok. Add minced garlic and onion and brown. Add ground lamb and cook over high heat. When the meat is very brown, turn the heat off and add chopped mint.
Wash tomatoes and peppers, open the tops, and scoop out the insides. Keep the tomato juice and pulp.
In a large bowl, mix the rice, meat, and tomato insides and toss with salt to taste. Toast pine nuts and add them to the mixture. Scoop the mixture into the hollowed vegetables until almost overflowing and place in a large pan or baking dish. Distribute the potatoes throughout the dish in between the peppers and tomatoes.
In a separate bowl, stir together the diced tomatoes, red wine, 4 tablespoons of olive oil, and oregano. Evenly pour over potatoes and stuffed vegetables.
Bake for 45 minutes or until vegetables are tender when poked with a fork.
About the Contributors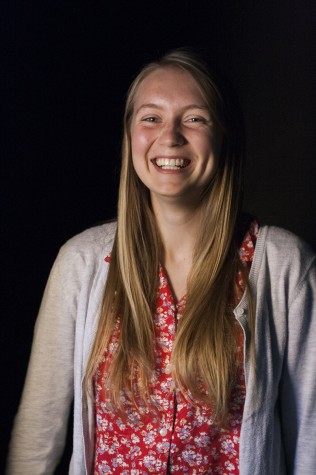 Marianne Cowherd, Science Editor
Marianne loves biology, physics, chocolate, and when it rains early in the morning. She enjoys playing oboe, bioinfomatics, and working in a cancer research lab. She is a science editor and this is her second year on staff.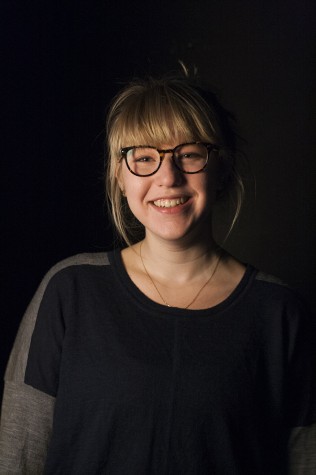 Ella Steiger, Co-Editor-In-Chief
Ella Steiger is a senior at Community entering her third year on the Communicator Staff. She is Co-Editor-In-Chief and currently spends 47% of her life doing work for Communicator. The other 53% of her life is evenly split between playing classical guitar, studying retinal organization and regeneration of Zebra fish, and marathoning Tarantino movies.