Guy Fieri Hosts Game Day Cook-Off
At 9:00 a.m. on Oct. 17, the Ann Arbor Meijer parking lot was transformed into a stage where Guy Fieri— most commonly known as the host of "Diners, Drive-Ins and Dives"— brought together the rival teams of maize and blue and green and white with a cook-off. There were three pairs that came with Fieri to participate, sponsored by Miller Lite, along with one open spot, which was waiting to be filled. Four pairs randomly picked from the crowd were selected to compete in a series of games to determine who would get the extra spot.
The first game had four loaves of bread; each pair chose a loaf, and if there was a slip of paper in it, they made it through to the next round. If not, they were awarded Guy Fieri's cookbook, "Diners, Drive-Ins and Dives." In the second round of games, the remaining three pairs had to balance burgers on a spatula only using one hand. In the final game, the remaining two pairs had to throw mini footballs into a shopping cart. Whoever got the most footballs in the cart after a minute advanced to the cook-off.
After two rounds of ties, Valencia and Jesse claimed the extra spot. Each group in the cook-off was given 45 minutes to prepare a meal with the food provided, before presenting it to a panel of judges. The four judges— Stevie Brown, Chris Floyd, Marcus Ray and Dhani Jones— were all previous University of Michigan football players.
Each group moved with purpose as they prepared their meal, and the smell of barbecue filled the air. The pairs consisted of Terri and Mike, Paula and Brad, Valencia and Jesse and George and Tracy. Each group was evaluated by taste, presentation and originality.
Valencia and Jesse took fourth place with their barbecue flank steak and beans. Third place went to George and Tracy, who made flank steak with peppers, onions and bacon. As a side they served grilled corn with chipotle butter honey sauce, and pasta salad with giardiniera and parmesan cheese. In second place were Terri and Mike, who presented an Asian burger with grilled pineapples and pickles with a teriyaki barbecue dipping sauce, and a side dish of a southern-style barbecue cheddar potato salad. Paula and Brad won first place with their jalapeno burger, hawaiian hot dog and corn on the cob. Each contestant was awarded with a $500 gift card and a trophy.
Leave a Comment
About the Contributor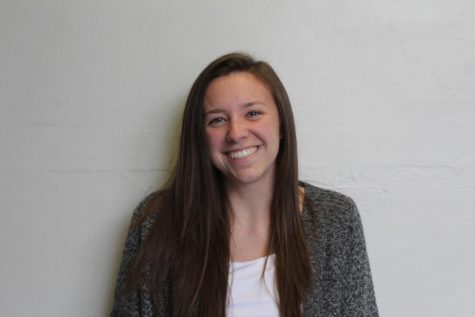 Megan Syer, Editor-in-chief
Megan is a senior at Community High School, and this is her fourth year on staff for The Communicator. Her hobbies include photography, graphic design, and singing. She loves musicals, especially "Dear Evan Hansen," "Into the Woods," and "Hamilton." Megan can usually be found in the third floor computer lab working on The Communicator, and it is extremely rare to find her anywhere else. Her favorite dessert is Tracy Anderson's famous cookies, and she refuses to believe that Tracy gets the recipe from the back of the chocolate chip bag since she cannot replicate it.