Dec. 8 Poetry Reading
Click on the audio clips below to hear some of the poems.
On Dec. 8, Community High students and staff gathered in the craft theatre for the Poetry Reading which covered many topics including politics, gun violence, one's name, love and hate. Eve Zikmund-Fisher was one of the poets who read a poem concerning politics. "I'm getting really scared about all this anti-islam rhetoric in America and how it's reminding me [of] a lot of things I've heard from pre-Holocaust Germany," she said of her poem, "Broken Promises and Broken Glass."
Ellen Stone, who runs the Poetry Club at CHS, began the Poetry Reading with a small speech. "In this time of polarizing and conflicting viewpoints on life and death issues around the globe, it is even more important that we all hone our own viewpoints and make our voices heard," she said. "Music, art and poetry are beautiful and compelling ways to state what we think about everyday phenomenon like love, what we see outside of our front door, as well as bigger dilemmas like violence and racism and war."
Following her introduction were fourteen student poets, and a reading from Stone at the end. The student poets were Violet Webster, Eva Rosenfeld, Avery Farmer, Rhia Linders, Kenny Simpson, Carson Borbely, Will Carroll, Eve Zikmund-Fisher, Katy Pasquariello, Eleanor Olson, Nyah Sclassie, Maya Burris, Aviva Satz-Kojis and Liam Knight.
Aviva Satz-Kojis, CHS freshman, read a poem that she wrote for an Introduction to Literature assignment to write about your name. It began, "Hello my name is Aviva." Satz-Kojis said she enjoys writing poetry. "It's a good way to get out what you have to say, and it's nice to put stuff on paper instead of just thinking it," she said.
The Poetry Reading was kept moving by the MC's, Avery Farmer, Kenny Simpson and Erez Dessel. Farmer and Dessel started the show off with witty rhymes which built up to introduce each poet. After Farmer had to leave early, Simpson filled in, not missing a beat.
About the Contributor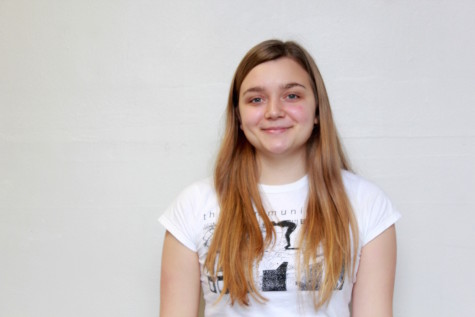 Sophia Werthmann, Editor-in-Chief
This will be Sophia's third year on staff. Her favorite things include 80 degree weather, acting, playing piano and bulletproof coffee (coffee, coconut oil, butter).