News Summary for Wednesday, February 3rd, 2016
News Summary for Wednesday, February 3rd, 2016:
From the Guardian–The Environmental Protection Agency warned the Michigan Department of Environmental Quality that Flint's water source was tainted with lead in spring 2015, yet the State still took no action to protect the citizens of Flint. The U.S. House of Representatives opened hearings into the Flint water crisis this week, though some are criticizing the fact that Governor Rick Snyder has not been called to testify and answer to his role in the crisis.
From the New York Times–President Obama traveled to a mosque for the first time in his presidency. Mr. Obama visited the Islamic Center of Baltimore today and sought to shed light on the plight of Muslim Americans at the hands of bigotry. Mr. Obama emphasized the unity of this country, and said that an attack on one faith was an attack on all, and unreckonable with the First Amendment's guarantee of freedom of religion. Mr. Obama's remarks served as stark contrast to several GOP presidential candidates who have suggested banning Muslim refugees and tourists from entering the country. The president said "we have to reject a politics that seeks to manipulate bigotry."
The Centers for Disease Control and Prevention (CDC) is taking the on going Zika Virus extremely seriously. NPR reports that Dr. Tom Frieden, head of the CDC, has advised that pregnant women should avoid traveling to countries where Zika has been reported. The CDC is scrambling to combat the spread of the virus, which is believed to cause microcephaly in babies.
From the New York Times again–the story of former Georgian President Mikhail Saakashvili, and his new role as governor of the Odessa region in Ukraine. Mr. Saakashvili, who was educated at Columbia University in New York, has been given a role in the Ukrainian government to fight an onslaught of bureaucratic corruption.
Michigan Radio brings the story of famed photographer Leni Sinclair. An immigrant to the U.S. from East Germany in 1959, Sinclair received an award from the Kresge foundation for her work in chronicling the history of Detroit and Southeast Michigan. Sinclair, along with her husband, John, was instrumental in the counterculture movement of the 60s and 70s in Detroit.
About the Contributor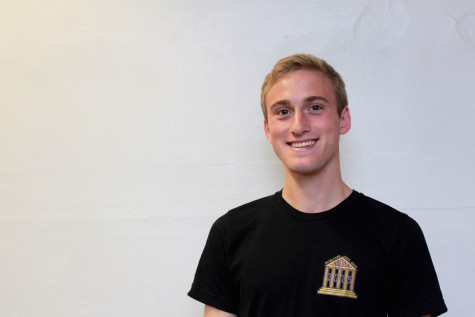 Matthew Ferraro, Editor-in-Chief
This is Matthew's third year on Communicator, and he's eager to get down to work. Communicator ranks among his favorite things, with crew and the oboe as well. This year he is a co-editor-in-chief.