Community High School students find baby squirrel
This morning, Robbie Stapleton's third block personal fitness class found a baby squirrel. Astonished by the cuteness, the whole class stopped to see it. they found the young squirrel in Community's front lawn on their way inside from their run.
The class together decided to name him Randell, after a vote was cast among the students. Randell seemed to be very scared and confused. He started climbing on students' shoes and entertained the whole class. Students took pictures until Stapleton decided it was time to head back to class.
Randell decided to follow the students back to class, running to keep up with them. Not wanting to let Randell into the building, Students found Courtney Kiley, a science teacher and animal expert, to help figure out what to do with the squirrel.
Since Randell was displaying unusual behavior for a squirrel, it was easy for Kiley to decide that he may not be a safe pet. Kiley picked Randell up with a light jacket, and placed him in a box. Not knowing where to take him, she called the Humane Society to come pick him up.  Ella Edelstein was one of the students involved in the incident.
"I just happened to be walking by and I saw that there was some commotion. The squirrel was extremely cute, but something looked a little bit wrong, it was way too friendly. When Courtney arrived she asked for my jacket, and phone to call the Humane Society. I stayed until they put it in the box, but I haven't gotten it back yet,"  Edelstein said.
The Humane Society was unable to pick him up, so Kiley brought him there at lunch.
About the Writer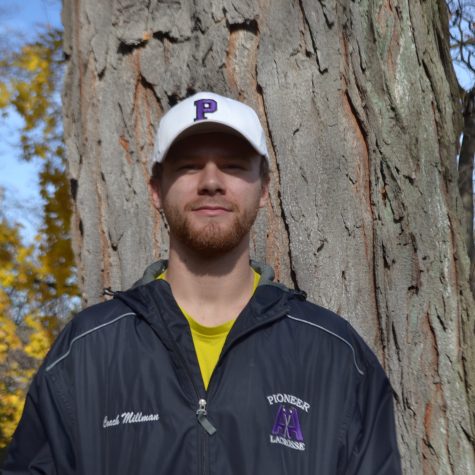 Sam Millman, Journalist
Sam is a senior and this is his third year on staff. He is captain of the Pioneer hockey team and enjoys the sport very much. Sam loves to ski with his family in Park City Utah over all of the school breaks and it's a long time favorite vacation spot for him. He's a big car guy, and loves working on cars with his friends, and driving them when they actually run. Sam Plans on studying construction management next year or engineering.