Genes in Disease and Symptoms Club Gets Ready for Another Great Year
On Sept. 14, dozens of curious students showed up to learn about basic genetics as well as mainstream topics like lung cancer and depression. This was only the second meeting of the year for the Genes and Diseases Club at Community High School.
Senior Catherine Garton, one of the co-presidents of GIDAS, explained what the club was in one of these very first meetings. "GIDAS is a club that advocates for science, encourages scientific education and responsibility," Garton said. "We teach a lot of fundamental biology concepts, and go a little more in depth about genomics." Even though GIDAS started in the Ann Arbor Public Schools District in schools such as Pioneer High School and Huron High School, the club has been spreading all throughout the nation and world, in places ranging from California to India.
Garton believes that GIDAS is much different than an average club. "GIDAS is different because we're not just a science club, or any science club," Garton said, along with why Community offers one of the best GIDAS Clubs. "Community's GIDAS is special because out of all the high school's GIDAS' I've been to, people here are really passionate and really interested."
Every year that GIDAS meets, there are always new members ranging from freshmen to seniors who are interested in health news. In the past week, new members have learned about current events and their correspondence with science and genetics. "It's been fun." sophomore Elina Kang said, who recently joined this year. "It's very informative, we were talking about learning about schizophrenia." Besides having lectures and discussions about medicine and genetics, club members partake in fun activities like making DNA models, where they can match up the different bases of the DNA with the colors of the marshmallows and make a DNA strand.
Kang is excited about her future with GIDAS and its education. "Science is one of my least favorite subjects, so hopefully GIDAS will make it more interesting." Kang said. There's no doubt that GIDAS is one step a high school student can take to make science more enjoyable and personal, and bring a new generation of discovery and information.
Leave a Comment
About the Writer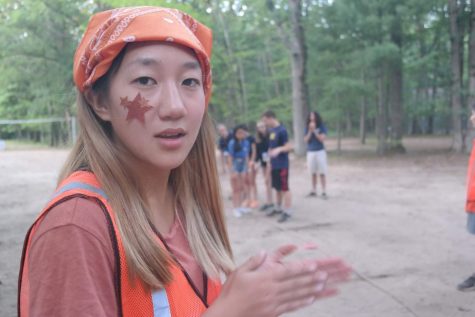 Gina Liu, Website Editor-in-chief
Gina Liu is a senior and is currently serving as a co-Website Editor-in-chief for the second year. She hopes that her experiences junior year will help guide her not only in web design/management but in life. She still loves mockumentaries, playing cello and playing varsity tennis over at Pioneer in the springtime. Additionally, she has problems remembering to drink water, and problems remembering things in general. She also placed second in The Communicator's first "Sliced" challenge.