Jabrill Peppers and Omega Psi Phi Fraternity visits Community High
As 12 members of Black Student Union (BSU) sat on the Craft Theater stage and hundreds of more Community High School students filled in, they all awaited one person: Jabrill Peppers.
Peppers is a defensive lineman, linebacker, safety, punt returner and so much more for the Michigan Wolverines' football team. Peppers can often be found on both sides of the football, playing offense and defense.
The excitement grew as BSU members came running in from the first floor to spread the news that the guests were here. The students in Craft Theater were jolted awake by the noise of loud music and young men stepping, a form of dance with prevalent footwork, through the aisle and to the front.
As the nearly 15 members of the Omega Psi Phi Fraternity came to the front of Craft, Peppers was nowhere to be seen. However, the young African American men from University of Michigan and Eastern Michigan University introduced themselves. Among them were former football players, sports businessmen, track stars and mechanical engineers.
The Omega Psi Phi Fraternity (OPPF) is the first international fraternal organization founded at a historically black college. The fraternity was founded at Howard University in Washington, D.C on Nov. 23, 1911. The founders were three undergraduates at Howard – Edgar Amos Love, Oscar James Cooper and Frank Coleman.
OPPF has a large population on many universities around the world. However, OPPF is not only for college students. They have outreach programs for young black men around the country, including 24 locations in Michigan alone with four in Detroit.
OPPF came to Community because of BSU outreach through the help of teacher Brandon Jackson who is an active member of the fraternity. The visit was very unique because of the rarity of fraternities visiting high schools. This one was especially rare because of Pepper's rigorous football schedule, but managed to find time for the session in light of his bye (off) week.
Dean Marci Tuzinsky emceed the question session, and BSU students came up from time to time to ask their own questions.
Eastern Michigan Junior De'Von, who majors in theater, said "I'm enjoying college because I do what I enjoy in college."  This got cheers from the whole audience, especially the students who participate in theater, both at and outside of CHS.
"Like a lot of people, I grew up playing sports and I love sports," Reggie Harris, a Omega Psi Phi member, said. "But reality hit and I realized the professional level is not for everybody. So, when choosing my major, I knew I wanted to do something with sports. I decided to go into sports business because I can keep sports in my life without actually playing them."
When asked why they chose their current major, Vincent, a senior who had to stop playing football when he suffered a knee injury last season said, "I wanted to be an engineer because of summer programs I did while I was in high school. When I was in high school I did a program at Cal. Berkley with college student mentors that lead us in classes. I liked it because it was peer to peer learning. They also all seemed really happy so I decided to go into engineering." He is now a mechanical engineer major at the University of Michigan.
Suddenly, in the middle of Tuzinsky asking the students  "At what age did you apply for your first college scholarship?" a murmur erupted from the crowd and heads turned to the back door.
Photos were taken and applause came about the crowd. Peppers made his way to the front, accompanied by CHS teacher Brandon Jackson.
Dean Marci Tuzinsky preceded to hand Peppers the microphone, and asked him when he applied for his first college scholarship. " I was in high school, so probably around 13 or 14," Peppers replied.
Peppers began his high school football career at the former #1 high school football program in the country, Don Bosco High School in New Jersey. There, Peppers helped his team to win consecutive state championships in 2010 and 2011. Peppers later left Don Bosco High School to attend Paramus High School in Paramus, New jersey. He led Paramus to another two state championships in 2012 and 2013. Pepper was selected to play in the Under Armour All-American game.
Coming out of high school, Peppers was ranked a five star recruit and the second best player in his class at any position. Peppers had offers to all of the major schools across the country, from Alabama to Notre Dame. Live on ESPN on May 26, 2013, Peppers announced he would be attending and playing at University of Michigan.
Peppers is currently enrolled in the College of Literature, Science and the Arts and has yet to declare a major. He has led Michigan to be a NCAA championship contender, and has generated heisman buzz in the first half of the season. A versatile player, Pepper has contributed to offense, defense, and special teams in the 2016 season.
Near the end of the assembly, the members from Omega Psi Phi were invited to step dance for those in attendance. Both Omega Psi Phi EMU and U of M had routines. Community teacher, Jackson, was invited up with them to see what he could remember from his time with the fraternity. As a final move, the step dancers, including Jackson, did a split jump and the crowd erupted in cheers.
As the time started to run out, Dean Marci excused the group and welcomed students to come to the front to get autographs and photos with Peppers.  
Peppers went on the following weekend, Oct. 22, Peppers helped lead the Wolverines to a 7-0 record and ranked 2nd in the nation.
Leave a Comment
About the Contributors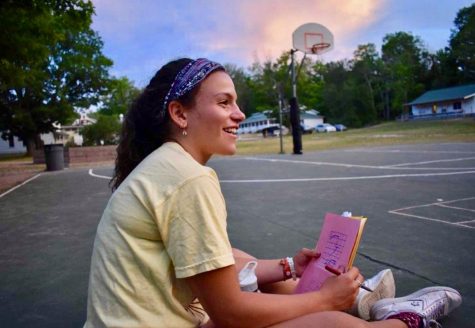 Cammi Tirico, Print Editor-in-chief
Cammi is in her fourth year on staff and is a senior at Community. This is her second year making up 1/4 of the print editor-in-chief team. When not working on The Communicator, she can be found playing golf and basketball for Skyline, lawyering at Mock Trial, singing camp songs off key at Camp Al-Gon-Quian or climbing trees. Cammi's favorite part of journalism is when an interviewee says something special or powerful out of the blue. Two averagely fun facts about Cammi are that 1 ) she is scared of lightning but loves rain and 2) her favorite shape is a triangle.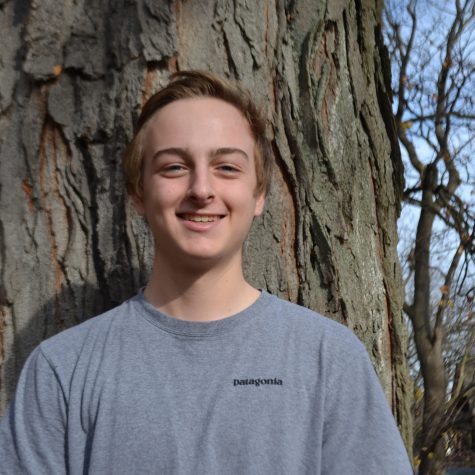 Sam Ciesielski, Journalist
Sam has mixed emotions about Twitter drama. He spends much of his free time listening to music and playing baseball. He likes to think he is going somewhere, and hopes to study engineering and/or communications on the west coast. His favorite 3 advertising characters are Mr. Clean, Jake from State Farm and Mr. Jelly Belly.