Following Traditions: Pączki Day
Traditionally on Fat Tuesday—also known as Pączki Day—pączki, a Polish pastry, are made and purchased to celebrate the day before the Christian holiday Ash Wednesday and the start of Lent. Big City Small World Bakery, a local bakery in Ann Arbor, started the day with 750 dozen pączki from a traditional Polish bakery in East Detroit.
On Feb. 28, 2017 at 2:30 p.m., about 690 dozen were sold. At 4:00 p.m., about 710 dozen pączki were sold, and at the end of the day at 6:00 p.m., 25 dozen remained: around 300 pączki. The ten flavors Big City Bakery sold included apple, apricot, blueberry, cherry, chocolate, custard, lemon, prune, raspberry and strawberry. Prune is the traditional pączki flavor however, other flavors have been added over the years. Added flavors include chocolate cream, cream and rose.
Before 5:30 p.m. at Big City Bakery, they had sold out of all their custard and lemon pączki, and had a couple dozen of their prune, strawberry and cherry pączki remaining. Pączki day is celebrated worldwide and is centered around the Polish pastries. Many people believe that pączkis is plural for pączki, but is it not. Pączkis is not a word and pączki is the plural for pączek.
Many other businesses sold pączki on Fat Tuesday, including Amadeus, Benny's Bakery, Big City Small World Bakery, Dom Bakeries, Dexter Bakery, Dimo's Deli and Donuts, Pastry Peddler Bakery & Cafe, Roos Roast, Sparrows Meat and Market, Sweetwaters and Zingerman's Delicatessen and a few others.
About the Contributor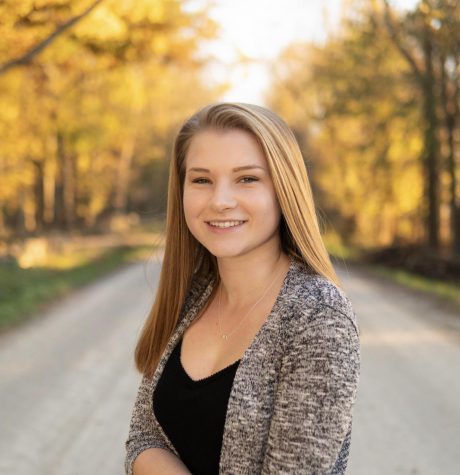 Madie Gracey, Copy Editor
Madie Gracey is a senior, and this is her fourth year on staff. She enjoys being playing volleyball and spending time with her friends. Recently, she started a journalism club at King Elementary School for the fifth grade class and she plans on attending WMU or KZOO for psychology this upcoming fall.