Students Place for Poetry Slam Finals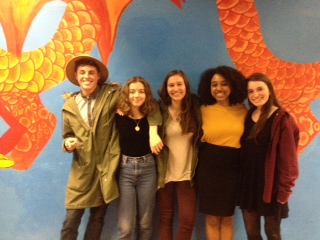 As rain drizzled down in light drops on the dusky evening of March 20, a group of students huddled together on stage inside Community High School's Craft Theater. In the center of the group stood Jeff Kass, a teacher at Pioneer High School and the Literary Arts Director at The Neutral Zone. What he said, the small audience could not hear, but there was a hint of anticipation in the air as the students eventually returned to their seats, ready to compete in the CHS Poetry Slam.
Thirteen poets would participate in the first round; then, eight would move on to the second, and read another poem. And of those, five would earn a spot in the finals at The Neutral Zone to compete in the Brave New Voices International Youth Festival. To judge the event, five students from the University of Michigan Slam Poetry Team sat in the front row with whiteboards on their laps. Poets were scored on a 10 point scale, and while most scored relatively high, audience members had fun by yelling at the judges to grade higher, creating an encouraging environment for all of the poets.
Kyndall Flowers, a senior who read two poems, repeatedly shouted, "Listen to the poem!" after students took their turn on stage. Others joined in with Master of Ceremonies Daniel Bigham, the Education Coordinator at The Neutral Zone, by booing when they deemed the scores too low; the crowd was in good fun, however, as they meant to motivate the poets. Each poem read was an original composition by the students and no language was censored.
In the end, Bigham announced the highly-anticipated winners. In third place was sophomore Thea Rowe; in second, Kyndall Flowers; and in first place, senior Hannah Rubenstein.
Rubenstein found her win to be surprising and strange, though she knew she had scored high. The first poem she read, "August 11, 2009," was a personal story about the day her older sister passed away. She had written the first draft about a year before the slam when a friend, who had recently lost her father, asked how Rubenstein had moved on from losing her sister.
"There's no way to answer that question," she said.
There were many things in the poem Rubenstein had only spoken about with her parents; it was difficult to tell one person at a time, let alone a room full of people. She planned to read it first, though, because if she did not make it to the second round, she would still have put it into the world.
"[For] six years I was just sitting with that knowledge without anybody else knowing it," Rubenstein said.
Her second poem, "A Questionable Ode to Ann Arborites' Favorite Response When You Ask Them Where They Went For Vacation OR Up North," was written one day before the poetry slam. She plans to read this in the finals, as it scored higher with the judges and is less personal than her first poem. Interestingly, Rubenstein does not consider her poems to be slam poetry, but free verse.
"I wasn't writing the up north one to be a slam poem," she said. "It was just about the feelings that I'd been having regarding liberalism in Ann Arbor."
The finalists, Will Carroll, Isabel Ratner, Thea Rowe, Kyndall Flowers and Hannah Rubenstein, will compete in the 2017 City-Wide Poetry Slam Finals and Semi-Finals finals at The Neutral Zone on March 30 at 6:30 p.m.
About the Contributor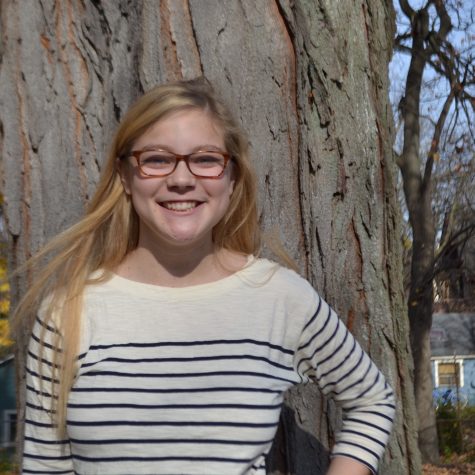 Alexandra Hobrecht, Print Editor-In-Chief
Alexandra is somehow a senior this year. Much to the concern of her friends, she likes having unread messages in her email inbox (7,484 so far). She enjoys pretending she is in a lifelong music video and impresses people with her singing skills. Someone once even compared her to the Muppets, though she has yet to audition. She quotes The Office daily, is currently learning sign-language and loves peanut butter toast.