The Ann Arbor Art Center Is Tickled (Millennial) Pink
It was a rainy Friday night in Ann Arbor on Oct. 6., but the second floor of the Ann Arbor Art Center was in full color. Fuschia light painted the walls, as Drake thumped from the speakers. It was the opening party for the Millennial Pink gallery, an exhibition of work from artists around the country incorporating one central theme—pink.
"There's such an attachment to femininity that this color holds," said Rene Diaz, a University of Michigan student attending the party. "I've never really been to an exhibition with this kind of theme, but I really like the possibilities it can explore and—judging by the work—has explored."
The Ann Arbor Art Center described Millennial Pink as an "all-media exhibition," with pieces using mediums like resin, fabric, cardboard, and video. One piece that stood out to Diaz? "There was a couch that had sort of a stuffed Kim Kardashian doll," Diaz said. "I thought that was very interesting given the symbolism a woman like her holds in our society."
Another guest at the event was Detroit artist Emmy Bright, showing in Ann Arbor for the first time. She revealed her source of inspiration for one of the pieces in the show. "Everyone gets it from a different place, right?" Bright said. "This blob—'Why Don't You Want This?' with the pink—someone had rejected one of my ideas for a performance for a show, I was so mad, I was like, 'Why don't you want this?' I had this Madonna mic, and this personal PA…That was originally a head with a microphone."
Bright emphasized her appreciation of the interactive relationship an artist has with their audience.
"You don't know that's a face," Bright said. "It doesn't have to be a face. Maybe you don't want it because it's on shitty paper. Maybe you don't want it because it's a stupid blob. Maybe you don't want it because it's pink, or a girl, whatever your answer to that question is… You're sort of in conversation with it."
What does the idea of Millennial Pink mean to Bright?
"Pink-ness has a lot of meaning to me," Bright said. "I still think it is inflected with a sort of femme context… maybe the feminine is getting a different kind of interest, at least superficially. I do think other things we think of as femme, like qualities of emotion, or sensitivity, or ethics of care, things where we're like 'Oh, that's a girl thing,' I don't think we're seeing people rush to that the same way we are pink sweaters in J. Crew."
Forty minutes in, the gallery was packed. Millennial Pink was an exhibit meant to start conversation, and it seemed to be succeeding as the guests engaged in discussions. From the exhibition selection and arrangement, to the food from Tavolina Catering, the Ann Arbor Art Center's hard work was noticed and appreciated.
"Ann Arbor Art Center, every time I've gone to their selections, they've always been so superb," said Diaz. "Especially with their support of Detroit artists… I'm all for it."
The Millennial Pink exhibition will be displayed at the Ann Arbor Art Center until Nov. 4.
Leave a Comment
About the Contributor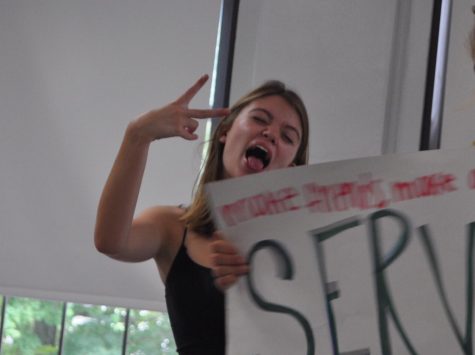 Paige Duff, Web Editor-in-chief
Paige Duff is a senior in her fourth year on Communicator staff, and one of three wonderful Web Editor-In-Chiefs. Her greatest skill is the ability to spin any fortune cookie slip, horoscope, or Magic 8-ball answer in a positive way. Paige loves the planet with her whole heart, and most of the people on it. She also loves car-singing and car-dancing — she does not love car-driving. She's looking forward to a magical year!