What's "On the Table" Community Discussion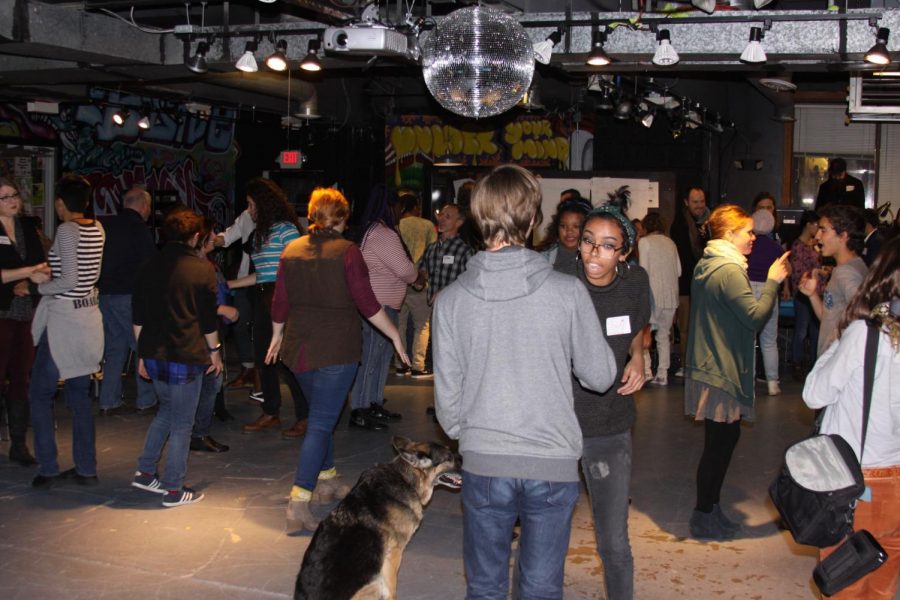 Mental health and suicide, police interaction with youth, school safety for LGBTQ youth, and rape culture were the four topics in focus at the Neutral Zone's annual On the Table event on Nov. 9, where youth and adults of the Washtenaw County community gathered to discuss these issues. These topics were hand-picked by teens at the Neutral Zone, and some topics like LGBTQ voice and police interaction have already been focal points for many teen organizations like the Depression Awareness Group at Community, who is partnering with the peer-to-peer group at the University of Michigan to end the stigma behind mental health issues this year. The event was catered by Zingerman's in Ann Arbor, and guests were invited to dig in while participating in these discussions.
As eager teens and adults entered the Neutral Zone, they were welcomed with Huron junior Kaye Hoff's "Anxiety" playing through the speakers, written by Hoff and produced through NZ's Youth Owned Records – the record label at Neutral Zone managed wholly by teens – a prime example of the youth voice that the Neutral Zone focuses to center on with events like On the Table.
Guests were recommended to make inviting name tags and mingle with teens and adults in the room, before Neutral Zone teens Narine Verydian and Daijon Munson started off the event with icebreakers and continued to give voice to Neutral Zone teens like Jade Wang.
Wang, a facilitator of both Lead Team, a program at Neutral Zone that teaches leadership skills and offers pay after a years of work, and Riot Youth, led the conversation on ground rules before discussing. Ground rules like "step up, step back," challenging the idea–not the person, and centering the most marginalized were introduced and explained in detail for the attendees.
"A lot of discussion is dominated by dominant culture," Wang said. "The voices who have a lot more to bring to the table tend to get ground out by dominant culture."
After ground rules, guests were asked to grab dinner and head to the topic where they felt the most strongly about. Tables were asked to write down 3 points they thought were most important to the topic, and to generate solutions to reoccurring problems in these issues. Teens and adults both snapped and applauded for each other, commending each other for listening and sharing their opinions about the issues that affected teens here in Ann Arbor. More well-known local community members like County Commissioner Jason Morgan and Ann Arbor Public Schools Board of Education member Jeffrey Gaynor were in attendance, and shared their input on the topics.
"All voices need to be heard," Gaynor said, echoing similar concerns as teens like Pioneer sophomore Laila Pasha who also spoke. "in the civic matters, but also these matters as well. I encourage people to keep speaking up."
Neutral Zone executive board director Lori Roddy finished up the night with collecting comments and encouraging those in the attendance to keep supporting the Neutral Zone, for opportunities like this.
"If we're going to build a community of youth and adults, we're going to need to talk."