The Past and Future of Poetry at the December Poetry Reading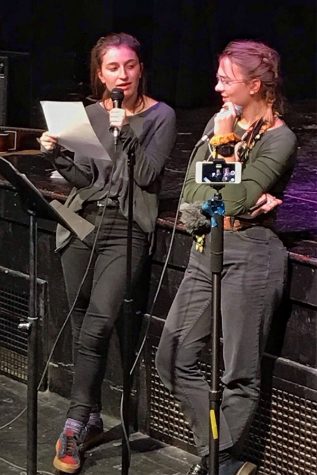 A tiny theatre: spotlight pointed center stage; people crammed in, sitting on their hands or leaning on backpacks; all waiting for the show to start. It's the December Poetry Reading in the Craft Theatre.
Ellen Stone, leader of Poetry Club and the head coordinator of the poetry reading, reads her piece and hands the microphone over to Isabel Ratner and Sabina Fall who introduce each poet with a rhyme of their name.
The poetry reading in this form was created as yet another expansion of poetry at Community — including Shorts on the Ledge; the creation of poetry club; and the expansion of Shorts on the Ledge — to provide students in both semesters of creative writing equal opportunity to perform their poetry at school.
Stone still remembers the early days of poetry at Community almost a decade ago with Shorts on the Ledge. "We stacked up chairs in the main hallway because we didn't have that many people that came," Stone said.
The last poet is introduced, this time without a rhyme. It is Michigan Masters program student and returning guest Marlin Jenkins. His poem is funny, weird, and a little dark: a poem about zombies.
"This is a really weird poem for me because I don't often incorporate humor into my poems a lot," Jenkins explained. Jenkins wrote this poem as an exercise during a workshop with Virginia's current Poet Laureate Tim Seibles, "This came out of that and I had a lot of fun writing it and so hoped it would be fun for people to hear," said Jenkins.
The crowd roared.
Jenkins started writing fiction in middle school to escape the dullness of his English classes and write something that actually interested him. In high school he moved to writing raps; it gave him a place to share his work and collaborate with others — something he was not offered in school.
This is what got Jenkins into poetry. "I really enjoyed the process of writing, that was my favorite part of it, that's how I got into poetry specifically. That trajectory fiction, to awful rap, to poems," Jenkins said.
Jenkins laments not having a poetry club in school, not having a real space to share work, get critical feedback, and get the direction and mentorship he needed to move forward with his writing.
He works to be that mentor by coming into places like Community, and by working with Inside-Out, a program that brings writers into Detroit Public Schools. "I really enjoy doing [this] kind of work and just being around young voices who really care about poems," Jenkins said.
And it worked. "When Marlin comes back, I get a ton of new people to come to poetry club because it's a new voice," Stone said. "He enriches the program."
The audience died down, the outro made, one last thunderous applause, and the crowd slowly stands and exits the theatre. Another successful poetry reading.