Students Walk Out to Protest Gun Violence
A crowd of students stood in a circle on the basketball court outside of Community High School, huddled together against the cold. Many of them had spent countless sunny days on this court, shooting hoops and cracking jokes. Today, however, something was different. Nobody was talking. The chirping of birds and the chimes of bells from the Kerrytown clock tower across the street were the only sounds to be heard. The students stood clustered together, some hugging, some just staring at the pavement in thought.
The silence lasted for 17 minutes, for the 17 victims of the shooting at Marjory Stoneman Douglas High School in Parkland, FL.
At noon on Feb. 21, 2018, students at schools across the country walked out in protest against gun violence in solidarity with Broward County, where the shooting occurred and the main protest was held.
Community was one of the many schools that held satellite walkouts. At noon, a group of students walked out of the school together. More joined in, and everyone converged on the back lawn. At least 50 students participated in the protest.
After students gathered on the basketball court, Community senior Will Carroll read off the names of the Stoneman Douglas shooting victims and a short description of each person. Afterwards, Bree Linton, also a senior, announced the 17 minutes of silence.
"It's pretty incredible and heart-wrenching that so many people from all of the grades decided to come out," Linton said before the event.
There have been 17 school shootings in 2018 so far, according to the advocacy group Everytown for Gun Safety. As reported by The Washington Post, five of those occurred during school hours and resulted in physical injury, and since the Columbine High School massacre in 1999, at least 170 U.S. schools have experienced a shooting.
"Our government just keeps seeing children dying more and more, more and more frequently," Linton said. "That's something that needs to stop. Children should be able to get an education and not be worried that they'll die doing it. I feel like I'm lucky enough to be living in Ann Arbor, where gun violence doesn't seem to be that huge of an issue, so I don't feel severely unsafe, but as a person, I don't want to be living in a country where gun violence is frequent."
"America needs better gun safety reform," Carroll said. "A 19-year-old should not be able to buy a semi-automatic weapon when he can't even buy liquor. It's just really sad. I just think there's more that we can do as an industrialized nation. If Australia and Japan don't have this problem, I don't see why we have to. [We] and our parents fear every day that we're going to walk into school and never come back. This is the United States of America; we should start acting like it."
Leave a Comment
About the Writer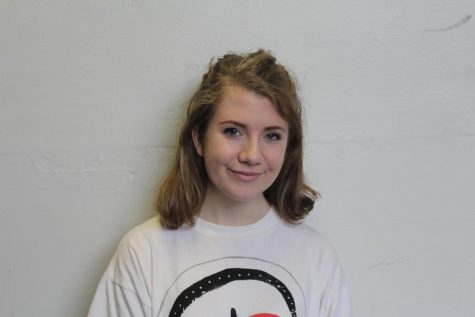 Grace Jensen, Editor-in-Chief
Grace has an odd love for palm trees which makes it especially unfortunate that she lives in Michigan. She did not know how to spell her middle name (Margaret) for the majority of her lifetime. She spends way too much time at Community High School for Communicator, Mock Trial, and Forum Council. She thinks she is better than people who don't like spicy food, and people who think they are better than other people.