Judith DeWoskin Jitterbugs with Students for Depression Awareness
Judith DeWoskin does not remember a time she wasn't jitterbugging. But if she had to guess, it would be around sixth and seventh grade when she learned how to do the jitterbug: the dance everybody needed to know growing up in the 60s. As she danced, her skirts underlined with cremlines – fluffy underslips that puffed out your dresses – would fall out all over the dance floor.
DeWoskin hadn't been jitterbugging in a school setting since her times as a youth until about two years ago, when she was showing the 1937 Japanese movie 'Shall We Dance,' to her Creative Writing class. The class started from discussing the importance of dance to DeWoskin teaching her class how to do the jitterbug, one of her favorite dances. Students began to snap pictures and videos of DeWoskin dancing, and student Bree Linton asked DeWoskin if she could jitterbug for a Depression Awareness event during lunchtime.
Two years later on March 23, DeWoskin found herself shuffling on the Community High Dance Body Room teaching students the six basic steps to jitterbugging for the second year in a row.
"I often talk about dance in my classes because I think it's important for happy lives," DeWoskin said.
Traditionally, jitterbug requires a partner. Girls are 'right-footers,' and boys are 'left-footers,' but for the Depression Awareness participants they were instead just called right or left-footers.
Clad in her silver oxford shoes and matching metallic shirt, DeWoskin taught the students the jitterbug pattern to the tune of Elvis Presley's 'Jailhouse Rock,' which she had practiced that morning in her kitchen by herself.
In the 20 minutes of lunch, the students were able to jitterbug thanks to DeWoskin's six steps to jitterbugging.
"I happen to like to dance, but I'm not a very good dancer," DeWoskin said. "I have energy and a good sense of rhythm, but I don't have much else. But that's what I have and that's good enough, right?""
Leave a Comment
About the Writer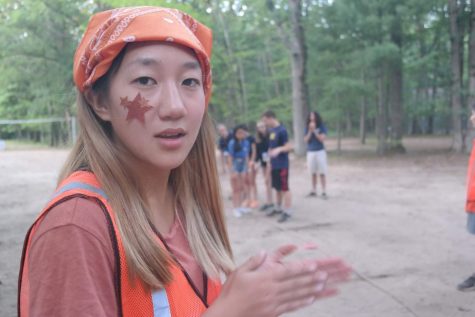 Gina Liu, Website Editor-in-chief
Gina Liu is a senior and is currently serving as a co-Website Editor-in-chief for the second year. She hopes that her experiences junior year will help guide her not only in web design/management but in life. She still loves mockumentaries, playing cello and playing varsity tennis over at Pioneer in the springtime. Additionally, she has problems remembering to drink water, and problems remembering things in general. She also placed second in The Communicator's first "Sliced" challenge.