Teen Poets Compete at City Slam Finals
There's the announcement of the poet, with occasional trigger warnings, and then the long applause – the M.C. makes sure it continues until the poet sets foot on stage – but only when silence fills the space crowded with an eclectic mix of chairs and couches and people does everything truly start. It only takes a few words.
There are seventeen competing poets. Five judges. Thirty-one poems. One full room.
On Thursday, April 12, parents, poets, and the occasional curious onlooker filled the Neutral Zone for the Ann Arbor teen slam poetry finals. Nineteen poets had made it past preliminary round held at four high school; Thea Rowe, Andie Tappenden, Will Carroll, Martha Ribant, and Isabel Ratner were competing from Community. Ten of the 17 poets went on to the second round, and the six highest ranking poets of the night went on to become the Ann Arbor and Ypsilanti city slam poetry team. These poets will be representing the cities in a national youth poetry institute called Write to the City in Chicago in July.  
The subject matters of the poems varied greatly, but some common themes were present, such as???. "Being ill is more than broken bones and blood," read Karley Misek to a chorus of snaps and cheers from her first round poem about anxiety. Mental health, ancestry and ethnicity, and womanhood were just some of the themes tackled eloquently in the three and a half minutes or less time limit for each poem.
Martha Ribant is a freshman at Community who writes poetry in a legal pad from Mock Trial with a sharpie pen (she likes the way the ink flows). The city finals were only the second time she had read; she wrote the poem for the preliminary slam at Community the day of, only hours before. Going into the final slam, she was excited, but "mildly terrified."
Ribant was mainly focused on being proud of what she puts out and expressing how much she cared about her topic of choice, in this case eating disorders.
She wanted her passion to come across to the audience, and passion was delivered in spades that night, across the stage from all poets. Through the intonation which varied from shouts to hesitant whispers, the words uttered through voices clogged with tears, and the pauses, where the silence filled the room so completely that one could a breath before the poetry resumes in full, the talent of the poets became increasingly clear.
And after each poem – sometimes during – there was thunderous applause.
The M.C. Alex Alaniz reiterated many times how the five judges had a difficult night ahead of them, but the final places were as such, from first to sixth place: Serena Varner from Washtenaw International High School, Thea Rowe from Community, Hasna Ghalib from Pioneer, Aldo Leopoldo Pando Girard from Pioneer, Anika Love from Skyline, and Karley Misek from Huron.
Leave a Comment
About the Writer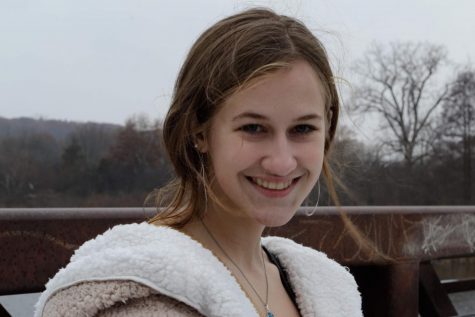 Zoe Lubetkin, Managing Editor
Zoe
Lubetkin
is a senior and currently embarking on her third and final year on the Communicator. When she's not writing for on staff, she enjoys walking everywhere and swimming at Barton, as well as sushi and chai lattes. She's a competitive rock climber, and competitive in most things too — she's an Aries. She uses Spotify, not Apple Music, and her Spotify Unwrapped was pretty truthful. This year she listened to 17 hours of Childish Gambino, whatever that means. Next year, hopefully at least one college will accept her, and she can walk to a fun French class at this college.