Community celebrates 8 National Merit scholarship semi-finalists
Will Panitch vaguely remembers the October day, roughly a year ago, when Community juniors were asked to come to school to take the Pre-SAT, otherwise known as the PSAT. Designed to give juniors an example of the SAT that they would later be required to take in April of 2018, the PSAT was covered by the district and was offered free for juniors, instead of the national price of $16 a student. Panitch remembered his fellow peers who were tense.
It didn't seem like a huge deal to him, but he still wanted to do well.
On Wednesday, Sept. 12, 2018, the National Merit Scholarship Corporation, located in Evanston, Illinois, released the names of the roughly 16,000 National Merit Semifinalists across the country.
Two hundred and fifty-three miles away at Community High School on Sept. 13, Will Panitch, along with fellow seniors Julia Ammer, Garnet Bernier, Ella Edelstein, Zoe Lubetkin, Callum McCullough, Robert Morton and Aaron Von Bargen were celebrated for qualifying as National Merit Semifinalists, along with their parents, counselors Brian Williams, Amy McLoughlin, and Dean Marci Tuzinsky. A quick brunch was held in room 303 at 7:45 a.m., supplied with Panera coffee and baked goods, as counselors congratulated them and began explaining the following process of becoming a National Merit Scholar.
By taking the PSAT in 2017, all juniors who were offered the test were automatically entered into the 2019 National Merit Scholarship Program. Out of the 1.6 million juniors across the nation who took this test, less than 1 percent qualified to be a semifinalists based on their scores. They were chosen based on their state's scores and are now considered to be the state's top-scoring seniors. Because of their achievements, these seniors are able to apply to be finalists by submitting a National Merit Scholarship Application.
However, only 15,000 out of the 16,000 semifinalists will advance to the finalist standing. And out of the 15,000 finalists, only 7,500 – chosen by a committee of college admissions officers and high school counselors evaluating one's academic record, school recommendation, a student essay, a list of extracurricular activities and scores on the PSAT – will be official National Merit Scholarship Winners that can then receive a scholarship.
There are 2,500 single-payment $2,500 scholarships, one of 1,000 corporate-sponsored scholarships or one of some 4,000 college-sponsored scholarships up for grabs as part of the total $31 million offered next spring.
Yet for some Semifinalists, their scores reflect more than scholarship money. The fact that CHS has eight semifinalists this year shows of the true academic culture at Community.
"When people say that Community doesn't do work and isn't a real school, I think we're proving them wrong with this," Ammer said. "With this, we obviously have a lot of people that work really hard."
Leave a Comment
About the Writer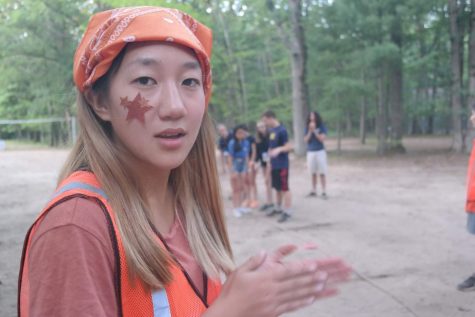 Gina Liu, Website Editor-in-chief
Gina Liu is a senior and is currently serving as a co-Website Editor-in-chief for the second year. She hopes that her experiences junior year will help guide her not only in web design/management but in life. She still loves mockumentaries, playing cello and playing varsity tennis over at Pioneer in the springtime. Additionally, she has problems remembering to drink water, and problems remembering things in general. She also placed second in The Communicator's first "Sliced" challenge.