Seniors Julia Ammer and Henry Schirmer win in competitive Forum Council elections
Senior Julia Ammer was interning at the Hammer Lab, located on the University of Michigan campus, while running an experiment of polymerase chain reaction, or PCR, to try to create an amplified sequence of DNA.
Taking a brief moment to check her computer, she saw an email from forum council leader Matt Johnson announcing her new role as forum council president.
On Sept. 27, Julia Ammer and Henry Schirmer were elected as forum council president and vice president, respectively, in what Johnson argues as one of the most competitive forum council elections in recent memory.
"I think that that sort of spoke to the quality of candidates that we had running," Johnson said. "There was a number of people who ran who really connected with the student body."
Three weeks ago, Ammer was not even sure if she was going to run: she was already the president of Genes in Disease and Symptoms Club and wasn't sure if she wanted to take up the responsibility that came with the presidency.
Then she realized that her senior year was her last chance to have a really lasting impression on the school. So she went on a limb and campaigned for president: going around to afternoon forums and talking, as well as putting a video in the forum bulletin slideshow for the forums she could not meet with.
The election was conducted with Google Form polls that were sent to each forum, which went into a huge spreadsheet. Johnson tallied up the votes and had them checked over by Dean Marci Tucinsky. In the end, Ammer and Schirmer came out winning in a popular vote system, and results were publicly announced late Thursday night on Sept. 27 via Communicator's Instagram.
The main issues Ammer wants to address this year are to work with administration in making sure that there's a diverse population of incoming students, reaching out to the underrepresented groups that aren't as represented, and also working on the Not-School-As-Usual day, usually known as Multi-Culti or ComFe, so that it meets both students and staff wishes.
"I think it's really important to address both sides of the spectrum and make sure everybody is in a place where they're not only comfortable but happy and proud of the event," Ammer said.
She wants her peers to know that this year, forum council, especially her and Schirmer, are only a hallway away for students when it comes to bringing up issues that matter to them.
Leave a Comment
About the Writer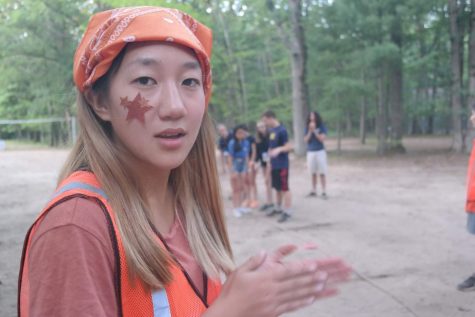 Gina Liu, Website Editor-in-chief
Gina Liu is a senior and is currently serving as a co-Website Editor-in-chief for the second year. She hopes that her experiences junior year will help guide her not only in web design/management but in life. She still loves mockumentaries, playing cello and playing varsity tennis over at Pioneer in the springtime. Additionally, she has problems remembering to drink water, and problems remembering things in general. She also placed second in The Communicator's first "Sliced" challenge.