WYI hosts March For Our Lives and B.R.A.V.E activists at Neutral Zone
"It was thick, and frizzy and looked like a triangle," Lucy Scott, a Community High junior and member of the Washtenaw Youth Initiative (WYI) said. She was accompanied by other young activists from Washtenaw County, Parkland, Florida and the South Side of Chicago. They were all taking turns laughing about each other's worst haircuts, and were seated in a circle on the floor of the Neutral Zone's brightly colored Leadership Lounge on Nov. 15, 2018.
24 hours earlier, three of them had gathered at Rackham Auditorium, which seats more than a thousand. Their names were Alex Wind, Sofie Whitney, and Lamar Johnson; Wind and Whitney represented the March For Our Lives, Johnson represented B.R.A.V.E. (Bold Resistance Against Violence Everywhere) Youth Leaders, and their organizations were recipients of the 2018 Wallenberg Award.
This night's event was different.
It was hosted in the Neutral Zone's B-Side by WYI. The group was formed shortly after the mass shooting at Marjory Stoneman High School in Parkland, Florida, and was inspired by the wave of teen activism that followed.
"I think it was seeing the Parkland kids organizing and making their movement, when we were like, we need to also stand up for the things that we believe," Scott said.
One of WYI's goals was to create a more intimate environment for their event, focusing on getting the speakers' inspiring stories out to young people. Whitney was excited by the difference at the beginning of Thursday night's panel.
"I can see there's so many people here, and they're all young people," Whitney said to the crowd. "This so different."
The hour was split between an opening poem, the panel, a Q&A period, speeches from other local teen activists, and an informational session regarding WYI's future. The goal was to create an intimate space for teen activists to listen and learn, and much of the event focused on the importance of teen movements and teen activism. Wind spoke on the tendencies of adult figures to try and take control of youth-led movements.
"You can't be taking the lead," Wind said. "You can't be holding the driver's wheel, because what's really important… you want to make sure that you are supporting and you are not leading."
Johnson was tasked with forming B.R.A.V.E. Youth Leaders as an undergraduate student, and is currently the organizer and program coordinator. He is 28, but recognizes the importance of the youth leadership within the group.
"The whole purpose of BRAVE Youth Leaders is to give young people the opportunity to be leaders and advocates for social change," Johnson said. "I had the awesome opportunity to counsel, and teach, and give workshops, and just provide as much support as I can to my younger peers for them to demonstrate and be active in their communities."
Another area of emphasis the event centered around was the lack of intersectionality within anti-gun violence activism.
"Even shootings like Thousand Oaks, like Tree of Life in Pittsburgh, like Las Vegas, these shootings don't get coverage," Wind said. "They get coverage for about a week. And then it goes away. The shootings in Chicago, the shootings in Oakland, the shootings in Baltimore: they don't get coverage, period."
"The media likes to focus on us [white and affluent youth] …" said Whitney. "That's why do we do everything we can to share our platform with groups like B.R.A.V.E. and groups who have never gotten the time of day from any media or any politician."
Johnson also spoke on the contrasting types of press coverage gun violence in Chicago and non-white and/or low income communities get.
"Here's the thing that really bothers me and pisses me off about Chicago violence," Johnson said.  "Our clearance rate of our shootings is 83 percent unsolved in 2017. But when we get on the news, they say 'gang-related.' So here's my question: How in the world can you know if it's gang-related if you aren't solving the case?"
This phrase, like many others that night, was met with snaps and applause from the audience.
WYI Organizer and youth activist Marquan Kane was another featured speaker of the night, sharing a bit about his personal experiences and an important message with the crowd.
"I'm a survivor of gun violence. And the school-to-prison pipeline. And poverty," Kane said. "But look, you don't gotta be in my shoes, or the shoes of Chicago youth, or Baltimore youth, or Philly youth, or Compton youth, or any youth who are impacted by gun violence, or anyone who is impacted by gun violence to know that these are hard times we are living in in this country."
Towards the end of the event, Zaynab Elkolaly, WYI external organizer, and Clara Núñez-Regueiro, internal organizer, spoke on the importance of ending performative youth activism — or activism for the sake of its outward appearance — and the goals they held for everyone in the audience.
"We want to enact actual change. We do not want to look good while doing it." Elkolaly said.
Marquan Kane ended the event with a call to action: "I'm here today to raise my voice and tell you all to do the exact same thing. Where you stand in your youth will determine where you sit when you are older. It is time we stand up; it is time we take righteous steps. Because it is us, and it is our future, it is our present. I mean, for real. It's not just about our siblings, and our children, and those who will come way after us. This is our world, and our reality, right here and right now."
About the Writers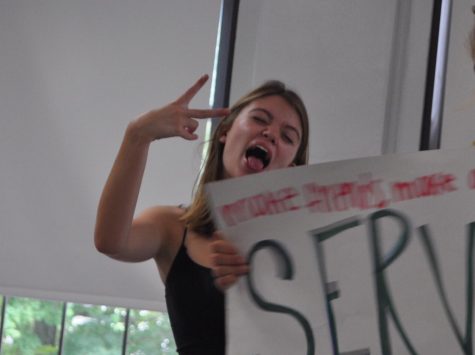 Paige Duff, Web Editor-in-chief
Paige Duff is a senior in her fourth year on Communicator staff, and one of three wonderful Web Editor-In-Chiefs. Her greatest skill is the ability to spin any fortune cookie slip, horoscope, or Magic 8-ball answer in a positive way. Paige loves the planet with her whole heart, and most of the people on it. She also loves car-singing and car-dancing — she does not love car-driving. She's looking forward to a magical year!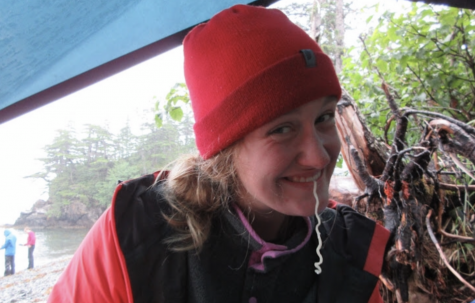 Ruby Taylor, Managing Editor
Ruby Taylor is a senior, and is currently in her sixth semester on Communicator staff. She loves all living things with every ounce of her being... except she hates creepy crawly crustaceans. She works as a barista at Argus Farm Stop, Mock Trials (yes it's a verb!) at CHS, and reads Reese Witherspoon's book picks in her free time. She is an INFP and her favorite word is cozy. She is a Gemini, but if you really want to understand her, recognize that she is a Pisces moon. She loves rain and the arb and her friends and taro milk tea.