Future Stars Preliminary 2018
On Jan.18, Pioneer Theater Guild (PTG) showcased the first night of their 17th annual talent show, "Future Stars." Unlike PTG's normal productions, which are typically plays or musicals, Future Stars allowed students to show off their singing and dancing skills in a less theatrical way. Students from any Ann Arbor high schools are eligible to compete.
There were four preliminary rounds, two on Friday (Jan. 18), and two on Saturday (Jan. 19). There was a specific theme for each performance; the performers' acts corresponded to the theme of the night. Friday's themes were "BeatleMania" and "#Respect," which highlighted strong women and powerful voices. Saturday's themes were "Totally '80s" and "myTunes."
At the end of each show, the judges picked five acts. The audience then narrowed it down to three acts by cheering loudly that will advance to finals. Three acts from each show advance to the finals, which will take place on Jan. 26th. The final show consists of the winners from the previous shows, who compete to win the entire competition. These are the acts scheduled to perform in the finals:
Bridget Roberts singing "We Can Work it Out."
Monty Graderson singing "The Long Winding Road."
Ella Manning singing "Oh! Darling."
Ella Manning, Bridget Roberts, and Jasmine Williams singing "Natural Woman."
Mia Galbraith singing "Warrior."
Ashanti K. Campbell singing "Last Ones."
Ashanti K. Campbell, Shane Collins, and Treyvon Foster singing "It's Tricky."
Bridget Roberts singing "Alone."
Greer Taylor singing "Nothing Compares 2 U."
Luke Adoni-Savas and Shane Collins singing "Girls Like You."
Monty Granderson and Jasmine Williams singing "Beautiful."
Seth Dyer and Greer Taylor singing "Shallow."
Community High sophomore Grace Bradley attended "Future Stars," and was blown away by her peers.
"It's super cool to see a bunch of really talented people up on the stage because I know them from school or have seen them around, but I had no idea they were so good at singing," Bradley said.
To attend the final show on Jan. 26 at 7:30 p.m., tickets can be bought at A2TIX.com; $10 for students and $15 for adults.
About the Contributor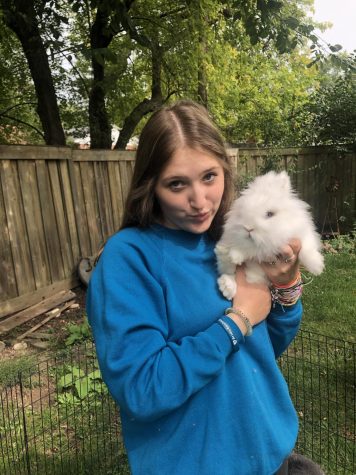 Sophie Nunez, Journalist
Sophie Nunez is a senior at Community High School, and this is her third year on staff as a journalist. Sophie has a strong passion for animals, when she is not writing she is probably riding her horse or playing with her bunnies or dogs. She enjoys blasting Taylor Swift and watching David Dobrik. If you are playing early 2000s music Sophie will be there singing along.