"Knock Down The House" Review
A heartening documentary following the 2018 campaigns of four women, Netflix's "Knock Down The House" provides important insight into the current political atmosphere in America.
The story opens with Alexandria Ocasio-Cortez, who was a New York waitress at the time. Viewers follow her journey through a grassroots campaign, working with organizations like Justice Democrats and Brand New Congress, who help citizens run against experienced and established politicians. By seeking unknown, working class community members, these groups pave the way for a different road to Congress — one without industry and Political Action Committee (PAC) funds.
"We need to have the courage to stand up for working people and stand up against corporate interest," Ocasio-Cortez said.
Paula Jean Swearengin of West Virginia has been greatly impacted by the corruption industry money has caused in politics. A coal miner's daughter, she ran her 2018 campaign against an established Congressman who had earned millions in assets from the coal industry.
"I just think they underestimate us," Swearengin said. "At the end of the day, [West Virginians] are going to fight for each other."
In St. Louis, Cori Bush is in an entirely different fight; she lives six minutes from where Michael Brown was killed in Ferguson and, during the days of protests following his murder, Bush took to the streets to serve the community as a nurse. When the community didn't see justice, Bush began her Congressional campaign.
The four women in this documentary ran for Congress because they are not politicians; they represent the people. In a striking juxtaposition, President Donald Trump ran both of his campaigns on a platform of not being a "typical Washington politician." However, he accepted money from PACs to support his campaign and, as a multibillionaire, he does not represent the working class.
Trump stands in stark contrast to Amy Vilela. A blue-collar Nevadan, Vilela had lived as a single mother and survived on Medicaid and food stamps before running for Congress. She gave up an executive level job, sold her house, and went into debt to run her campaign.
"In the beginning it was a tough decision, but I would do it again in a heartbeat now," Vilela said.
In a politically tumultuous time, "Knock The House Down" provides a heartening story of every-day Americans working for change in their communities, their states and their country. It is hopeful and inspirational, in a time when, for many Americans, hope and inspiration are sorely lacking.
Leave a Comment
About the Contributor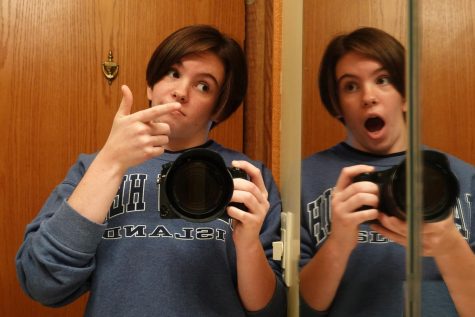 Geneve Thomas-Palmer, Web Editor-in-Chief
Geneve is in her fourth year on staff and her third year in leadership. Her favorite part about journalism is the unique way in which it enables her to interact with people, who all view the world with their own, individual perspectives. Journalism was one of the first things she felt passionate about: she felt a drive to experience and learn, to shift her own view of the world.
When she's not working on the Communicator, she can be found practicing jazz, preparing for a Mock Trial competition or helping run feminist club. Some fun facts about Geneve are as follows: she was born with an extra thumb that has since been removed; she loves to sing and dance, even though she is not good at either.