Returning to In-Person Learning: Is It Really Worth It?
We only have three months of school to go, is returning to in-person learning during a global pandemic really worth it? Here are the pros and cons of going back to school.
CONS
While many students are looking to get back into the classroom for the last months of the school year, there are many negatives that go along with it. 
It's been about a year since CHS students have been in the building on North Division street. Now, more than ever, students and teachers crave the unique ambiance that the school at CHS presents. The debate about whether or not students should return to school has been considered heavily among Ann Arbor residents. 
The only debate with sizeable influence is among the AAPS Board of Education. After great consideration, the board approved the plan for a hybrid learning option, effective Mar. 25. The four stages of the plan will play out over the course of 18 days, eventually leading up to the hybrid return of all grade levels. It's safe to say that many students are eager to return to the classroom, but the downsides should be recognized.
When we think of finally going back to in-person school, we imagine normalcy: socializing between classes, lunch with friends, making connections with teachers, and everything that many realize they took for granted. So, what is in-person going to look like this spring? Not the school that we fondly remember. 
It is expected that students will sit six feet apart on their computers while in-person at school. Students will attend class through zoom while sitting with unchosen small groups; alphabetical order is not exactly ideal for students reconnecting with old friends or making new friends. There will be no open campus; no lunch at Zingermans or coffee from Sweetwaters. The many appeals to everyday school at CHS won't be present. Hybrid learning won't be much better than online classes.
Not all students will choose to go back. Teachers must rely on shaky school wifi to communicate with those who are still at home, meanwhile managing a classroom of students. The curriculum for in-person and online will be the same but the learning environments will be much different. Students in-person will have the benefit of instant communication and interaction with their teachers, unlike those in their homes. Though, it is possible that students at home will benefit from their environment in a different way; they will have less supervision and more resources during assignments and quizzes. Teachers seem to finally be getting the hang of being fully online. The varying environments will lead to complications on both ends of the screen.
Even with the addition of safety precautions, the health of students and teachers is at risk. Back to school means hundreds of different students in the same building all week, leading to the inevitable risk of increased transmission. We didn't go back to school in fall 2020 due to the high number of cases, so why are we planning to go back now with only three months left? 
The point is, the AAPS cannot entirely ensure health and safety to the hundreds of students at each school who filter in and out of the classroom on a daily basis. Of course, hybrid learning is deemed to be safe as parents are assured that their children will wear masks throughout the day with their designated small groups. But it would be shocking if cases of COVID-19 aren't amplified throughout the AAPS come spring. Health and safety should be the number one priority. 
Returning to in-person learning seems like a breath of fresh air, maybe a chance at some (now rare) feelings of normalcy this school year. However, it seems like administers are feeling immense pressure from those wanting to return. We only have shy of three months left; the drawbacks that come with returning may have deleterious effects on students and their families. It all seems so rushed during unprecedented times.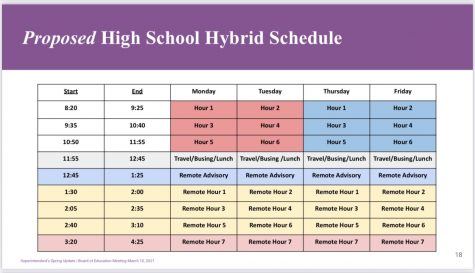 PROS 
The pressure is rising as the AAPS district has announced a new hybrid learning plan, sending students back to school is essential.
The habits that some students have created during online learning are unhealthy and unrealistic for the future; many haven't interacted much with peers outside of their homes in almost a year. The online learning environment is ineffective. Seniors entering college next year are simply unprepared.
For those students living in abusive homes, their school can be a safe place. Having this taken away for over a year is unfair. School counselors are there for students to have free mental support and using this resource is very difficult online. It is also essential for students who rely on school meals to get back to school, families should not have to worry about supervising their children, working from home, and finding a source of food when it may not be easily available. 
Virtual learning is something that many schools, including CHS, have been doing since Mar. 2020. Virtual learning is a way to ensure the safety of students and teachers. However, with extra safety precautions, students can learn in-person again while being safe.
The recent update from the AAPS district plans for hybrid students to attend school for only the first half of the day. The decreased exposure will help ensure the safety of staff and students. Wednesdays will be completely virtual, giving a chance for staff to sanitize the building, ready for the next group of students come Thursday.
When students are learning inside the school building, one guarantee is that students will get the help and support they need from their teachers. Virtual school makes this nearly impossible. Although teachers have office hours for students, it is easier for students to reach out in person. Additionally, it is easier for teachers to see when students are struggling. When students are on the opposite side of the screen, they are less focused with little supervision; unlike being in the classroom.
Furthermore, students would get to see their friends, which most people look forward to. For many students, being able to interact with their friends face-to-face would be beneficial from a social and emotional perspective. New students need the opportunity to make new friends in their classes. It is extremely beneficial to a learning environment when students feel comfortable reaching out to a peer in the class, but that is hard to do when you've never met your classmates in-person.
One of the greatest challenges that the pandemic has generated is the lack of socialization. Everyone has been through a lot of change in the past year, friendships were lost and habits altered. Students are isolated; they went from interacting with peers on a daily basis to seeing no one. Unfortunately, depression and anxiety can be effects of isolation; it is normal for all of this to take a toll on a student's mental health. Students rely on social interaction with their peers and teachers to build connections. Students need to be in the classroom so they have a chance to socially interact and defrost old habits. Without a sense of familiarity, learning comes with resistance. 
Leave a Comment
About the Writers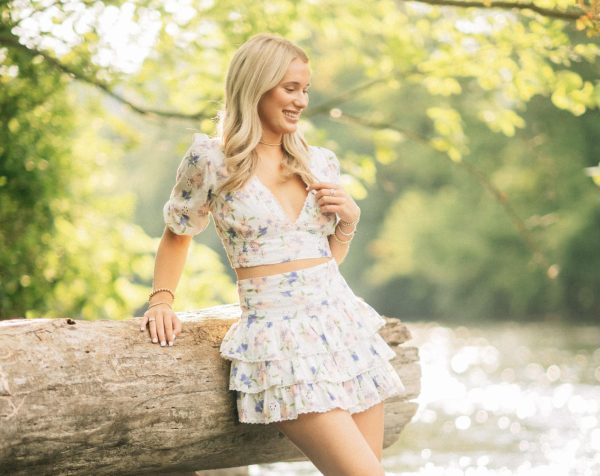 Reagan Masek, Midnight Sun Editor-in-Chief
Reagan Masek is a senior entering her fourth year on The Communicator staff and her third year as an EIC of the Midnight Sun. Outside the walls of Community High, you can find her out with her camera or playing lacrosse. She loves to go on drives and walks and you can always find her listening to music. She loves writing, photography and In-Design. She is super excited for another semester on staff and can't wait to see what her final year at Community High holds!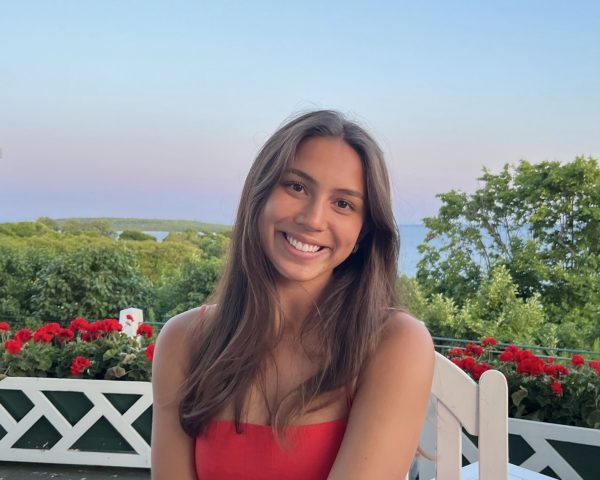 Emmy Chung, Journalist
Emmy is going into her fifth semester on the Communicator staff. She is excited for what the year will bring and finally being a senior! She spends most of her time playing soccer, which she has played since the age of six. Emmy enjoys being outside as the weather gets colder, going on long runs, and discovering new coffee shops.