Women in Jazz – Sophia Svinicki
Trigger warning: this story contains descriptions of eating disorders.
Growing up, Sophia Svinicki thought she knew what a musician looked like. Musicians were skinny, muscular, confident. They knew what they were doing; they could knock the socks off an audience. Sviniki did not see these attributes reflected in herself. She did not look like a musician, so how could she be one? 
Svinicki has lived with a binge eating disorder for seven years now but she started a new cycle of binging and starvation during her first year of high school. She was stuck in a loop of harmful thoughts that convinced her she didn't deserve music. She was desperate to be a musician, but she did not feel like she was capable of doing this before she lost weight.
"I didn't practice and I didn't do any extracurriculars," Svinicki said. "As I started to introduce musical things back into my life, I realized how musically starved I was."
Binging is the act of filling an emotional void with food, in order to feel emotionally whole. Svinicki was able to find something else that filled this void: jazz. She describes it as "jazz binging" and says that it helped her break the eating disorder cycle and bring music back into her life, as well. 
"Jazz is sometimes like a conversation; [jazz] music is this language you have to learn, and it's so thrilling to be a part of this improvisational conversation," Svinicki said. "And after all the silence, all the starvation, I had so much to say."
Throughout her life, Svinicki has played music. She took piano lessons when she was young and played bass at the Ann Arbor School of Music for years but it was in Community's jazz program where she truly found an outlet in music. Svinicki has always found music empowering but when she joined Jazz 2 in her junior year, it was a step up from what she already knew. 
"[In jazz], you're improvising on the spot. It's new chord shapes, longer chords," Svinicki said. "I wanted to take that. I needed more. I was hungry for it."
With so little female representation in this field, Svinicki did find it difficult to commit herself to jazz. The music environments she had experienced were very often male-dominated; she, as a female bassist, describes herself as a rarity. 
Svinicki was in four different bands at the Ann Arbor School of Music and only played with another woman — a singer — once throughout all of them. Although jazz singing is male-dominated, women who play instruments in jazz are even more uncommon and underrepresented. 
At CHS, Svinicki was able to play more frequently with other women: she was one of two female bassists in Jazz 2 and there were other female performers in her class. But as a woman, Svinicki was still part of a small fraction of female jazz musicians in her class and in the program as a whole. She thinks this is due to jazz's culture and history, as well as the lack of recorded female jazz artists. 
"A large majority of jazz is written by male composers, played by male players," Svinicki said. "We don't have that representation, so we don't learn from that."
Svinicki does have female role models to look up to, however. She is especially moved by Esperanza Spalding, a jazz bassist and vocalist. Svinicki is inspired by the way Spalding looks at being a musician and her way of staying in reality. Spalding says that being a musician is really being a cultural worker for your society, which prompted Svinicki to pursue jazz as her career.
"I realized that, if I wanted this to be more than just a hobby, if I wanted to take this passion and make it everything… then I would really have to make the time commitment now and do the work," Svinicki said.
Svinicki has taken this realization to heart and is planning on going to music school after high school and majoring in jazz studies. She recognizes that as a musician, she has to choose between doing something she truly loves as a career or putting it on the back burner and she is excited to continue learning and growing. 
Svinicki has hope that women will become more prevalent in jazz. She wants aspiring female jazz musicians to know that jazz is worth it, despite the shame and work that comes with it. 
"Take other people out of the equation if this is something that you're interested in," Svinicki said. "If this is something you're aspiring for, do it because you want to do it and you want to make yourself a stronger musician."
Most importantly, she wants people to know that "it's not a waste of time if you care about it; it's not a waste of time if you enjoy it. There's always more to learn, so why listen to those voices in your head."
Leave a Comment
About the Writer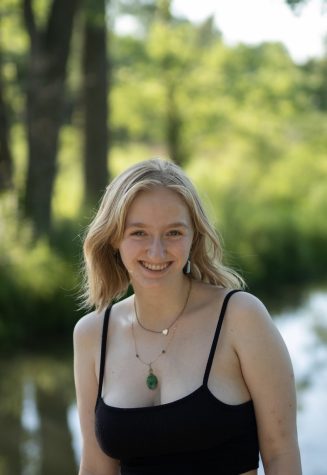 Ria Lowenschuss, Print Editor-in-Chief
Ria Lowenschuss cannot believe she is starting her fifth semester on staff, as a senior in high school! Ria loves Room 300 and everything that comes with it — especially words and chocolate chip cookies. She appreciates warm sweaters, reading good books, and bagels, and she can't wait to keep writing and telling true stories.