Dave Chappelle SNL Monologue
On Nov. 7, President and Vice President-Elect Joe Biden and Kamala Harris delivered their victory speeches at their campaign headquarters in Wilmington, Del.. Customs like the victory speech and the concession speech are expected and practically tradition in the elections, but another tradition during election week is one that is a little less formal.
In 2016, the week of the Presidential election, famed comedian Dave Chappelle hosted "Saturday Night Live," the well known NBC comedy sketch show. Now in 2020, on election week, he was back hosting the show.
Chappelle, who is known for his harsh and NSFW humor, did not stray away from his comic style when giving his opening monologue Saturday night. He walked out on the stage with a cigarette in hand — smoking is prohibited on live TV — and proceeded to smoke it throughout the duration of his sixteen-minute long monologue. 
Chappelle tackled many issues head-on and didn't stray away from any rough jokes in his performance. He spoke about his father, who was enslaved for a portion of his life. Instead of using that to segue into a deeper commentary on many of the racial injustice issues that are present in our country today, he took a rather unexpected turn, going into a joke at his own expense. This is not uncommon for Chappelle, but to see it done on live national television, where the content is usually kept to a certain level of sensory was more of a surprise. 
Chappelle was also able to change form from a joke to a serious comment very quickly.
"This morning after the results came in, I got a text from a friend of mine in London. And she said, 'The world feels like a safer place now that America has a new president.' And I said, 'That's great. But America doesn't.'" 
While this may have given the crowd a quick laugh, it wasn't the point of the joke, and one could tell watching him deliver it. 
He proceeded to go into a spree of jokes about President Trump handling the coronavirus, some of which were directly trashing the president, but some of the others were humanizing and framing Trump as childish and ignorant.
"Now Trump is gone," Chappelle said. "I know a lot of people don't like him, but I thought the guy was at least an optimist. I am not as optimistic as he was. I look at it like, well, there are BAD people on both sides. Donald Trump is a wild guy… He was on a press conference, tried to guess the cure of the coronavirus in front of the whole world." 
Chappelle turned a corner in his performance when he began speaking about being on the winning side of this election. He reminded us that this may be a great feeling for some of us, but there are still people who feel like they lost so much. 
"I would implore everybody who's celebrating today to remember it's good to be a humble winner," Chappelle said. "Remember when I was here four years ago? Remember how bad that felt? Remember that half the country right now still feels that way. Please remember that."
Chappelle reminded us that no matter how our views may differ, we still need to find a way to co-exist. To not fight hate with more hate, because now is a time to heal so much of the harm that has already been done, not a time to create more.
Chappelle spoke about race roles and the impact of drugs and suicide. 
"Remember that for the first time in the history of America, the life expectancy of White people is dropping," Chappelle said. "Because of heroin. Because of suicide."
He spoke about the anger and the pain that it has caused in our world right now. 
"All these white people out there that feel that anguish, that pain, they're mad, because they think nobody cares," Chappelle said. "And maybe they don't. Let me tell you something, I know how that feels. I promise you, I know how that feels."
His approach was fascinating because unlike the rest of his show, the target wasn't the single person being made fun of, it was the entire audience. Chappelle made sure to address the audience and made it feel like a real conversation.
 "You're a police officer, and every time you put your uniform on, you feel like you've got a target on your back," Chappelle said. "You're appalled by the ingratitude that people have when you would risk your life to save them… But here's the difference between me and you; you guys hate each other for that. And I don't hate anybody. I just hate that feeling. That's what I fight through, [and] that's what I suggest you fight through."
In his closing remarks, he emphasized that to the crowd.
"You got to find a way to live your life," Chappelle said. "[You] got to find a way to forgive each other. You got to find a way to find joy in your existence in spite of that feeling."
In a powerful performance, Chappelle delivered, when it was needed most.
View Comments(1)
About the Writer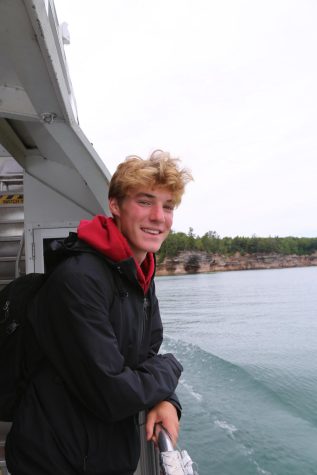 Kurt Hausman, Sports Editor
Kurt is a senior at Community and is entering his third year on staff, his first as the Sports Editor. His favorite part about journalism is writing about high school sports in the Ann Arbor community and being able to hear people's stories. When he's not writing he is playing football as a captain of the Ann Arbor Pioneer Varsity Football team, spending time outdoors with his friends, exercising, or working his part-time job at Stadium Hardware.