Women in Jazz – Leah van der Velde
Leah Van Der Velde's family has always prioritized music. Van Der Velde grew up surrounded by the strums of a ukulele and the groans of a church organ; her grandfather was a ukulele player in college and never stopped, and her grandmother played organ at a church. Van Der Velde's grandparents have played music around her for as long as she can remember and her mom is carrying on the tradition. She has a rule that her children must always be playing an instrument.
"[My mom] always plays music and I think she just understands how important it is," Van Der Velde said.
Van Der Velde has been playing trumpet for two years now and enrolled in jazz her freshman year. Jazz has been a big part of her life since she started it three years ago but, even in the highest level of jazz, there are extremely few women apart from Van Der Velde. In her class, there are only two other women musicians and last year, there were only there. 
Being in a male-dominated environment was difficult and strange for Van Der Velde. It was hard enough that she did not know anyone in jazz when she first started the class, but being surrounded by high school boys exacerbated the newness and difficulty. 
"I felt like I couldn't really speak out," Van Der Velde said. "I was definitely more shy and didn't want to play and [I] didn't want to be an outspoken voice even when I knew that I could help and contribute to the group."
Jack, Van Der Velde's jazz teacher and the leader of CHS's jazz program, has made Van Der Velde feel more comfortable and accepted as a woman in jazz. She feels that he includes her and her fellow female students and goes out of his way to make sure everyone feels welcome in the jazz program. 
"Two years ago, there were many more girls in our jazz band and [Jack] sat us down and just talked to us about how he could make it better [and] how he could make us feel more included," Van Der Velde said. "Even just that conversation made me feel so much better, even if I wasn't feeling like I was excluded from anything."
Van Der Velde has many role models in the music industry outside of jazz. She says that almost all of these people are female. Within jazz, she loves Divinity Roxx and Esperanza Spalding, two jazz bassists.
"[Roxx and Spalding] just exude confidence and I'd like to think that that can become a more normal thing," Van Der Velde said.
Van Der Velde does not plan on playing jazz after high school but she knows she wants to keep jazz and music in her life. She is hoping to attend jazz shows and listen to jazz in her daily life.
"Don't be afraid to just be yourself," Van Der Velde said. "Don't pay attention to your surroundings. I think that I'm definitely guilty of acting differently around different people and I think, in a jazz setting, it's really important to be yourself or you can't express yourself through your music."
Leave a Comment
About the Writer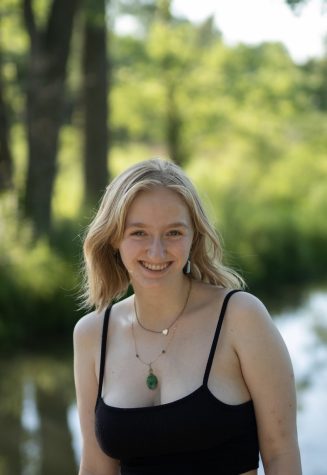 Ria Lowenschuss, Print Editor-in-Chief
Ria Lowenschuss cannot believe she is starting her fifth semester on staff, as a senior in high school! Ria loves Room 300 and everything that comes with it — especially words and chocolate chip cookies. She appreciates warm sweaters, reading good books, and bagels, and she can't wait to keep writing and telling true stories.