FOS Online and The Freshman Experience
When Emmy Wernimont first found out that her freshman year of high school would be online, she not only felt exceedingly disappointed but also very nervous. In September, she entered 9th grade feeling even more uncertain than most students in previous years. Learning online is a challenge for any student but especially for those who have had no prior exposure to high school classes. One subject area that is particularly difficult to teach and learn online is science.
The CHS Foundations of Science (FOS) program combines biology, chemistry, physics and earth science into three years of high school, with the purpose of providing an integrated science experience. When informed of the transition to online learning, Christia West, one of the FOS II and III teachers, said she worried most about preserving social interactions and allowing students to experience labs. 
"We can't do labs, so the big thing is trying to have a meaningful lab experience, and I think we've used the tools that we have available as best we can," West said. "If I had a year to create labs online, it would probably have been better, but I think we've been doing as well as we can." 
Though students and teachers have faced difficulties adapting to teaching and learning FOS in an online environment, resources like self-guided lectures, breakout room discussions and lab simulations have been integrated into FOS classes, providing resources for students' learning, as well as replacing some of the in-person experiences that students would have in normal years.
Another concern of many teachers has been the freshman class: students who have never been introduced to the FOS program or even experienced a high school science class. 
"I didn't really know much about science or high school, so I honestly didn't really know what [FOS] was going to be like," said Emmy Wernimont, a freshman at CHS. "I feel like I'm definitely missing out on more of the lab hands-on stuff because we don't really have those materials at home."
Freshman Michael Gronewald agreed that it has been difficult to replicate the hands-on experiences that FOS classes would normally include. However, he has enjoyed the work they have been able to complete, especially when students get to work together in groups.
"We haven't done as much collecting data, but we have done research on Michigan rivers and Traver Creek," said Gronewald. "It's a little bit disappointing [not being able to do labs], but I also feel like teachers are doing a pretty good job [adjusting]."
Even online, Gronewald has enjoyed the structure of his FOS I class. 
"[In middle school] it was a lot of experimentation with science, but now we're doing research and learning more by reading about things, talking about them, and discussing them in class, instead of just doing [individual] work," said Gronewald.
Teachers have also been experiencing difficulties adjusting to FOS online. Not only does the curriculum have to be modified to work in the virtual format, but also, teachers have to figure out the best way to present this information to students and help them learn in a completely new environment.
"It's harder for me as a teacher," West said. "I'm trying my best to keep up on who's falling behind and who's struggling, but because I don't have that normal day-to-day interaction, I can't just give [students] that extra help in class."
Though FOS classes are inevitably different online, teachers have been working tirelessly to make the most out of our current situation. This includes collaborating with other instructors throughout the district, as well as supporting students during this transition. 
"I think that the biggest thing is being flexible and being able to give the students some choices," West said. "Not everyone has the same parameters, but everyone has the parameters in which they can succeed."
About the Contributor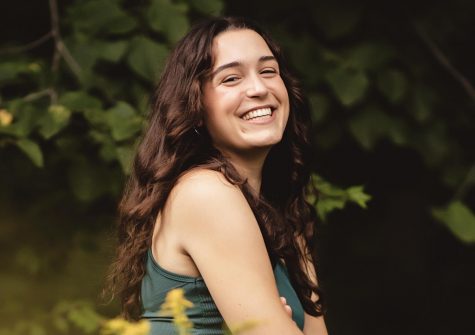 Maggie Wolf, Content Editor
Maggie is a senior at Community and feature editor for The Communicator. This is her third semester on staff, her first in leadership. When she is not busy writing or reading, you can find Maggie on the volleyball court, in the pool playing water polo or singing in the choir at Huron. She is so excited for this semester of in-person journalism!