Jen Eyer: A Voice for Her Constituents
Jen Eyer was recently elected to serve as one of Ann Arbor's city council representatives. Eyer is a mother of two and has been a Michigander for her whole life. Senior year is where Eyer's interest in politics all began after she was selected for the National Young Leaders Conference that took place in Washington. After meeting her current congress representatives and taking place in a mock debate with her peers, Eyer was offered an internship to work in the office of the current congressman at that time, Howard Wolpe. Once Eyer was ready to begin her college career at Michigan State University, she decided to take Journalism because she believed it was the best way for her to be engaged in politics and be able to report back on whatever was happening in the world. 
"I wanted to hold people accountable and communicate what decisions were being made. I worked in journalism for 20 years and as soon as I left I immediately jumped right back into politics." Once Eyer started back up in politics she was taking part in jobs one after another eventually leading her to work as the spokeswoman for our current governor, Gretchen Whitmer. Later on, Eyer was also appointed to serve on the Washington Community Board of Commissioners. After taking part in several job opportunities Eyer knew she wanted more.
"When I looked around at the different opportunities I really felt that locally was where I could make the most difference here in Ann Arbor. We are a progressive community. But it didn't seem to me that the decisions that were being made by the city council in the past couple of years were as progressive as residents wanted. That is why I chose to run for office here for city council."
Being a woman in politics can be challenging, throughout Eyer's experience she explains that you need to focus on yourself and not worry what those around you say.
"I think it's really important as a woman in politics to be very assertive and very clear in your communication and in your knowledge on any issues. Haters gonna hate, you must learn to let it go." 
Being one of Ann Arbor's city council representatives, Eyer's biggest role is making sure that she is representing her constituents.
"Residents will reach out to me with concerns that they might have. I try to help them get answers for questions that they have by finding the information that they need, communicate concerns that they may have for City Hall, and help get a resolution to issues."
One of the main concerns that are an ongoing issue in our environment is climate change. Eyers' team hopes to make Ann Arbor a carbon-neutral city by 2030 which will be a major contribution on Eyers' part. 
"Going forward we are making sure that we're positioning ourselves to recover economically from the COVID pandemic and get people back on their feet and get businesses open and thriving again. Those are two huge things that I work on as a city council member in a variety of ways. The third thing is really creating more housing in the city for people who commute and want to live here."
On a more personal level, Eyer is looking forward to creating a new culture for the city council where council members can respect each other and learn from one another. 
"I'm going to be rolling out some new ideas in terms of how we can really make it more part of our culture that when we disagree we disagree respectfully and we make our disagreements about policy not about personalities."
Younger generations have flourished in political engagement on issues that have arisen in these past couple of years such as climate change and gun violence, and most recently, the 2020 election.
"I do think that high school students are more politically engaged now. It is really exciting to me to see how much more involved teens are and how they have the ability to get information about politics, through channels that they use socially, such as Instagram, YouTube, and even TikTok. I think that the younger generation is a lot more informed about the big issues that we're facing in the future."
Leave a Comment
About the Writer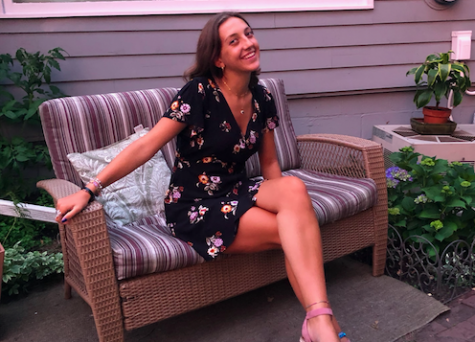 Delia Binetti, Journalist
Delia Binetti is currently starting her senior year at Community High School and is very excited for her first year on staff! When not engaged in school, Delia is usually spending time outside with her dog, attempting to move to Italy, or babysitting several children. She loves to spend time with friends and family and roam around Ann Arbor trying to find something to occupy her time. Although journalism will not be the same virtually, Delia is staying optimistic for the upcoming year!