Poetry Club Hosts Reading
On Oct. 26, 2021, Community High School's Poetry Club held its first in-person poetry reading in almost two years. Aptly named All Hallow's Eve, the Craft Theater's house lights were dimmed low and spooky music floated out into the hall. Nine members of Poetry Club read poems with themes of spirits, bones, ghosts and autumn.
Although the first poetry reading of the year usually takes place in late December, Poetry Club wanted to start performing as soon as possible. The club was virtual last year, which members appreciated the consistency and social interaction, but recognized that it was not the same atmosphere.
Jocelyn Kincaid-Beal is a poet and active member of Poetry Club. They performed a poem written specifically for this reading. They reported that it felt good to interact and connect with other poets again, as well as performing in front of an audience.
"When we were virtual, it was still good," Kincaid-Beal said. "But now we can actually do stuff [together]."
Ellen Stone has been the advisor of Poetry Club since its inception ten years ago. She felt that this reading fits into the history of poetry reading throughout Poetry Club. Stone views creating things, especially poetry, as an emotional outlet.
"Everyone's words added to this overall scene of mystery and uncertainty, which maybe matches how we all felt during the pandemic," Stone said. "But somehow, it feels good to control it by creating something from it."
This poetry reading was not mass-attended, as only sixty people were permitted to view it. However, those who were able to watch it, greatly enjoyed the event. Eve Kaplan, a CHS junior, felt like it was a much-needed respite from school.
"It was a really nice creative break," Kaplan said. "I love hearing people's inner workings of their minds."
Poetry Club is already planning more events for the future, including a field trip to the University of Michigan art museum and a Midwinter Solstice reading. Stone believes their biggest barrier is the lack of knowledge of these events.
"We need to build our audience back up, but we are up to the challenge," Stone said.
Leave a Comment
About the Writer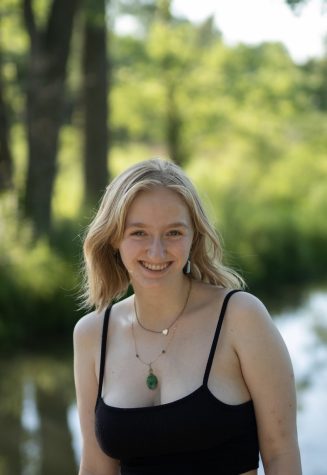 Ria Lowenschuss, Print Editor-in-Chief
Ria Lowenschuss cannot believe she is starting her fifth semester on staff, as a senior in high school! Ria loves Room 300 and everything that comes with it — especially words and chocolate chip cookies. She appreciates warm sweaters, reading good books, and bagels, and she can't wait to keep writing and telling true stories.