Biking During Winter
As winter approaches, it can present many challenges for bikers such as late sunrises, and snow and ice layers. With these challenges, how can winter bikers prepare for the winter season?
Michael Gronewold is a student at CHS who is facing the challenges of the winter. He started biking at the start of the COVID-19 pandemic and since the beginning of the 2021-22 school year, Gronewold has been biking to school. But due to the weather conditions, he has decided to stop.
"[Biking isn't] worth it," Gronewold said. "It's just gonna be too cold. With ice and snow, it's just bad conditions."
Another reason Gronewold was unsure about biking was due to unclear bike lane maintenance information around the city. So how are bike lanes—especially bike lanes which have dividers such as "stop for pedestrians" or thin curbs—being maintained this winter?
According to Eli Cooper, a transportation program manager within the City of Ann Arbor, groups will be sent around Ann Arbor to remove poles and anything which may block plow trucks from plowing bike lanes. Because Ann Arbor has a curbside-to-curbside policy, all parts of the road must be plowed.
However, snow isn't the only problem plaguing bikers—another is ice. Cooper stated that Ann Arbor uses a type of ice melt that needs to be melted to combine with ice for the ice to melt.
"Bikers aren't heavy enough to crush the snow," Cooper said. "And bikers don't go fast enough to have the friction to melt the ice and mix the salt and ice…. If lanes are in poor conditions, the sidewalks are still available for use."
So how can riders prepare for winter? There are several main things to consider, all shown in a video collaboration between the Ann Arbor District Library and Common Cycle, a nonprofit organization. They recommend three things: comfort, safety and confidence.
Wearing things like comfortable pants, jackets and gloves while also having reflective clothing can all help reduce the chance of being hit, especially in the dark mornings. Also, another important thing to have is confidence; knowing where to go and how to approach things like ice can reduce risk.
Knowing what to wear and how to approach certain things can be a vital part of biking in the winter. Especially in the dark and icy winter mornings, it's important to remain safe while biking.
Leave a Comment
About the Writer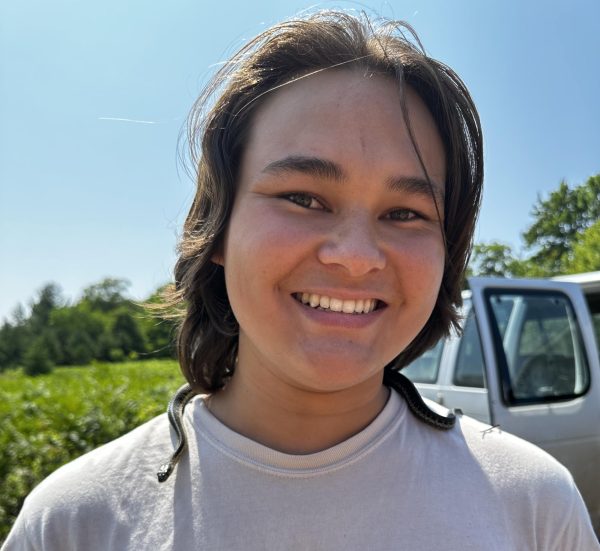 Aidan Hsia, News Editor
Aidan is the news editor for the Communicator and a senior at CHS. He's played classical guitar for most of his life but loves all kinds of music. Aidan likes reading, playing games, or watching late-night movies with his dog. He's excited to start his senior year and to write stories for the Communicator.