Dark Matter Comes to Community
Tim McKay, a physics, astronomy and education professor at the University of Michigan, came to Community High School's Craft Theatre on Dec, 10th for a guest lecture on dark matter, courtesy of The Space Club. McKay has taught at the UofM since 1995 and he quite enjoys these lectures, interested in presenting his research and teaching people the mysteries of the vast unknown.
"As always, I want people to be aware of the marvelous things that we've been able to learn about the universe because I think they enrich people's lives," Mckay said.
The lecture discussed an array of topics, delving into theoretical hypotheses and observations of gravitational pull, interactions with mass and of course, plenty of progress in research on dark matter. The whole lecture was around 35 minutes and the post-discussions cut into the next class block.
Jordan Clemetson, Space Club's president and CHS senior, invited Professor McKay to CHS. Clemetson is hopeful to host another event like this in the future, believing that the more exposure people have to the topic, the more people will be interested in them.
"I was so worried that nobody would come and it would just be an empty room full of chairs and this guy standing up here wasting his time," Clemetson said, "I was worried that all that work that I put into it wouldn't be something people were interested in, but we actually got a lot of people in attendance. I think we ended up with 38 people there, which was so many more than I expected."
Jasmine Lowenstein, an attendee of the presentation, decided to attend the lecture after seeing it on her forums' bulletin slides. Lowenstein said that she enjoyed the presentation and its informative discussion. She also possibly plans on learning more about these topics in the future and taking physics classes in college.
"I came into this presentation knowing very little about dark matter and it was really interesting to learn about and see how something can start off theoretical and then there can be different observations that prove those theories and prove that it's true," Lowenstein said.
Leave a Comment
About the Writer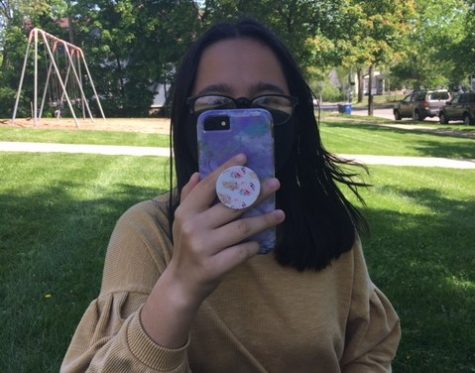 Aliyah Carr, Journalist
Aliyah is in tenth grade in a very hopeful first semester of participating in the Communicator. They have a plethora of stories and voices they are excited to share, through tons of different medias of art and literature. She enjoys musical theatre, drawing, and writing of all kinds. With the newly shifting seasons, recording change and experiences are important to her, and journalism is a great way to channel that into their life.