Pioneer vs. Saline Basketball
On Tuesday, Dec. 14, the Ann Arbor Pioneer High School (PHS) varsity basketball team hosted the Saline Hornets for their fourth game of the 2021-22 season. It was the season's home opener for the Pioneers, after playing their first three contests on the road.
"This season, I've really been excited," said Elijah Klein, Community High School senior and Pioneer forward. "(Last year) we only had 11 games, because our season got cut short due to Covid, so it seems that we've been working for this season for a long time."
Early scoring sprees by Saline helped them to an early lead. The Hornets kept momentum for the majority of the first half, leading by as much as 27 points. The Pioneers were able to claw their way back into the game with aggressive defense efforts led by junior guard Reed Yuhas and senior forward Mohammed Conde.
Scoring proved to be a struggle for the Pioneers early on, but led by 13 points from Klein, they were able to get on track in the second half, bringing the Hornet's lead to within single digits in the fourth quarter.
"Basketball is a game of stretches," Klein said. "There's always going to be times where you're up or you're down. But when you're down you just gotta keep rolling with the hits. You can't get demoralized because nothing good is going to happen when you start losing confidence."
The strong Pioneer defense continued to cause problems for the hornets as the fourth quarter went on. The game was back and forth and was within single digits for the final minutes of the fourth quarter. However, the comeback came too little too late for the Pioneers and Saline was able to prevail by a score of 63-55.
"It's frustrating when we lose because you can see the potential of our team in so many flashes," Klein said. "We just have to keep working to get to where our potential can be. I believe in us, we just gotta keep pushing to get better every day."
Leave a Comment
About the Writer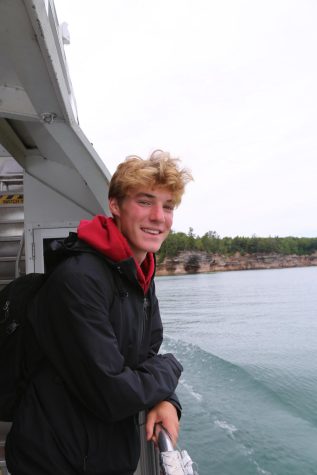 Kurt Hausman, Sports Editor
Kurt is a senior at Community and is entering his third year on staff, his first as the Sports Editor. His favorite part about journalism is writing about high school sports in the Ann Arbor community and being able to hear people's stories. When he's not writing he is playing football as a captain of the Ann Arbor Pioneer Varsity Football team, spending time outdoors with his friends, exercising, or working his part-time job at Stadium Hardware.