Grand Opening: Dozer Cafe
Just off of Jackson Road, newly established Dozer Café is attracting all the hip students, families and coffee connoisseurs.
Since its grand opening on Dec. 6, Dozer Cafe has already become Ann Arbor's newest hub for specialty coffee, gourmet donuts and peaceful studying. Located just off of Jackson Road, Dozer Cafe can't be missed; its eccentric, neon green entrance and auto body repair shop-turned-retro-cafe architecture bring new life to Scio Township. It is the perfect place to settle down with a good book while enjoying a seasonally rotated cup of coffee, or meet with friends under a gallery of locally featured artwork. 
Dozer's sister companies, HOMES Brewery and Smooj — all under the same ownership —  have made huge strides in the beverage business since 2016. After national recognition of HOMES Brewery and Smooj, proprietors looked to expand their footprint. All under the same ownership, HOMES, Smooj and now Dozer Cafe offer unmatched customer service and quality beverages. 
The new campus on Jackson Plaza boasts 27,000 square feet across three large industrial buildings. Dozer Cafe takes up only 7,000 square feet, with the other two buildings being production facilities dedicated to fermentation and carbonating beer. Dozer Cafe's floor-to-ceiling garage doors add a unique touch to the building, bringing in plentiful natural light and offering indoor and outdoor seating. 
As you enter the complex's entrance, the cafe and roastery is front and center. The high-top tables and cozy seating areas flow into the Smooj taproom, which serves canned drinks to-go and merch. Overflow and tasting room seating can be found not much farther in a vibrantly white room that features rotating art installations. 
Head coffee roaster and trained chef Adam Rizzo is excited for the culinary possibilities and flexible space to host food trucks, pop-ups and festivals. It is his job to perfect the coffee with alternating menus that experiment with flavors in his state-of-the-art commissary kitchen. It currently serves an assortment of cold beverages, espressos and coffees like "Ganache Mocha" and "Honey Dust Latte," to name a few. 
The current chef is serving up his take of 50's diner food with high-end ingredients. The vibe was to capture a grab-and-go feel with hot sammies like tuna melts and corned beef hash that can be eaten in-store or taken to-go. The donuts are made in-house daily by two pastry chefs who tag-team the fresh and innovative menu. They currently offer exciting flavors like "Bananas Foster" (inspired by New Orleans cuisine) and "Peanut Butter Pretzel" to satisfy a sweet tooth. 
For operations manager Al Lauzon, Dozer Cafe is the perfect opportunity to bring people together in a challenging time. 
"The reason we exist here is to be a community driver for people to gather together, for businesses to come together and to be an overall creative space," Lauzon said. 
Leave a Comment
About the Writer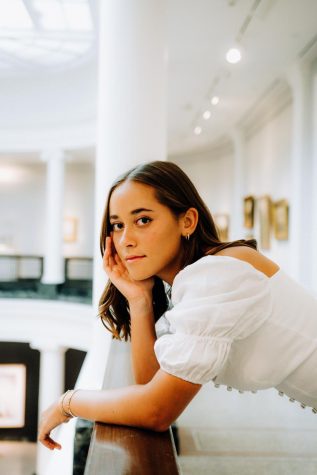 Mia Goldstein, Print Editor-in-Chief
Mia is a senior at Community High and this will be her second year as a Print EIC. Most of her time is spent on InDesign, fooling around with page design or making funky vector art on Illustrator. When she's not in the journalism room, you will either find her on the tennis court 80% of the time or with her black lab, Abby, the other 20% of the time. She's always up for a challenge. Bring it on senior year :)