Classroom Life: New History
Joslyn Hunscher-Young aims to broaden CHS' history department and her students' minds by teaching history that is often not taught.
Joslyn Hunscher-Young has always wanted to be a teacher, but not of history. As a student, history never spoke to her. Instead, she went into college hoping to major in math. She ended up switching to an anthropology and sociology major after taking calculus. Through her experience, Hunscher-Young has found that teaching history means so much more than textbooks and tests.
"In having a chance to actually be a history teacher, I'm able to figure out ways for students to develop their understanding of the stories of our world and that's why I love it," Hunscher-Young said.
For the second semester of the school year, Hunscher-Young is introducing a new history elective: African-American Studies. Although this course has been approved for the Ann Arbor Public Schools, it has not been offered at CHS until this year. Hunscher-Young believes that it is important to teach true history, even if it is difficult to learn about.
Hunscher-Young is tailoring this new class so it fits CHS' environment; specifically, she hopes to look at how the CHS building and campus have been an integral part of African-American history in Ann Arbor. In 2022, Jones School, a predominantly African-American elementary school which used to be in the building that is now CHS, will hit its 100-year anniversary. Hunscher-Young wants to utilize the people and places surrounding Ann Arbor to learn from and about CHS' past.
"Once we get to the point [in Ann Arbor's history] where Jones School was a thing, we're going to try and bring in a lot of local history resources and think about things like, 'What does Black history and being Black in Ann Arbor mean?'" Hunscher-Young said.
In order to offer a hands-on experience, Hunscher-Young doesn't want her classroom to stop at the door. She plans to incorporate many different mediums for learning, like guest speakers and field trips to places in Ann Arbor and Detroit.
"I hope that there is a clear understanding of the great diversity and depth of what it means to be African-American or Black in this country, where that comes from in history and what's impacting those identities and intersectional identities today," Hunscher-Young said. "I'm hoping that with our local history focus, we get to do some creation of history, the documentation, the telling and [the] communicating of stories."
Although it's only her second year of teaching at CHS, Hunscher-Young has big plans for the history department. Huscher-Young is working diligently at getting more ethnic studies classes approved at CHS, like Asian-American Studies and Hispanic American Studies. She also designed a course called History of Racism and Resistance in the United States, which she hopes to teach in the coming years.
Hunscher-Young is looking forward to the opportunity to teach African-American Studies, especially because she hopes she will learn along with her students. "I'm really excited to learn about [this history,] to see students get engaged and hopefully spark some ideas and ways to connect with local community resources," Hunscher-Young said.
Leave a Comment
About the Writer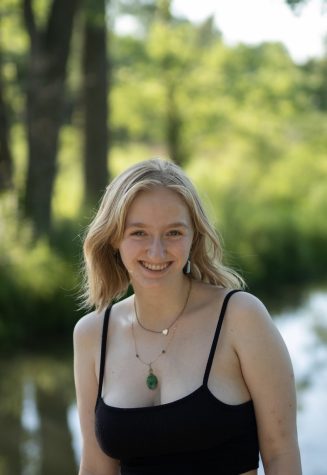 Ria Lowenschuss, Print Editor-in-Chief
Ria Lowenschuss cannot believe she is starting her fifth semester on staff, as a senior in high school! Ria loves Room 300 and everything that comes with it — especially words and chocolate chip cookies. She appreciates warm sweaters, reading good books, and bagels, and she can't wait to keep writing and telling true stories.