Elise's Next Steps
At the beginning of the 2021-22 school year, Elise Godfryd became a student-teacher at Community High School (CHS). It's not common for students at the University of Michigan to get placed in the same school both semesters of their student-teaching year, but former CHS teacher Matt Johnson gave Godfryd the "honor of a lifetime" by introducing her to English teacher, Tracy Anderson.
After Godfryd went to a traditional high school, seeing the atmosphere at CHS gave her a new perspective on her planned teaching career. Throughout her college career, Godfryd strictly wanted to be a literature teacher — it's all she thought was possible. After the semesters at CHS, she has released her limits and has a new goal to be a journalism and yearbook teacher.
"I think [student-teaching] at Community has taught me what is possible," Godfryd said. "I think the environment here is conducive to so much joy I didn't know was possible. The respect this institution has for young people means the world to me. The students and teachers here have taught me that there's a space for me in the realm of teaching and education and I can be happy doing it."
During her freshman year, Godfryd wasn't sure the University of Michigan suited her. She perceived the school's ideals prioritized partying, sports games and binge drinking — none of which Godfryd cared about. However, she found her "family" through the student-paper, The Michigan Daily. The other women in her group were learning how to be teachers as well. Once Godfryd found her group of relatable people, she was able to make a formal intimidating place smaller, transforming her college experience.
"Ann Arbor feels so homey, but also new all the time," Godfryd said. "There are people here all the time giving talks and there are museums. It has this intellectual artistic culture and natural art of the world. Everything I would want is here and I'm leaving. I don't want to but, alas, maybe I'll return."
After eight months at CHS and four years at the University of Michigan, Godfryd must say a potential permanent goodbye to Ann Arbor. She graduates college April 30 and plans to move home with her family for a week. Then, quickly after settling in, she begins a cross-country road trip with her friend to Glacier National Park in Montana, where she'll be working this summer as a retail associate at a gift shop.
Through all the violence in the world, Godfryd is hoping Montana provides a reset in her life. She has high desires and expectations out of her adventure.
"I think Montana for me is going to be an opportunity for me to step away from the violence in the world for six months," Godfryd said. "And maybe I'm running away from responsibilities and avoiding my life. But I have this fantasy of me going on a hike and like standing in front of a cliff and there's like water and mountains and like, bears, whatever. I want to have that experience. I want to feel connected to the Earth in a natural authentic way again. And just to feel like even though the world is terrible, I want to feel reconnected to the beauty that I know is here. I'm just hoping for some solace, some comfort, some peace, even if it's only for a short while."
View Comments(1)
About the Writer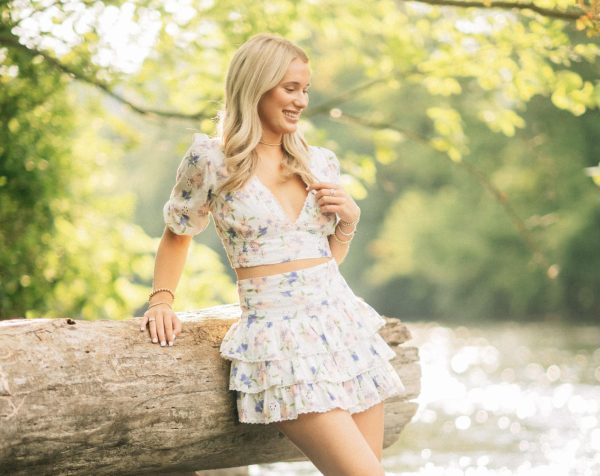 Reagan Masek, Midnight Sun Editor-in-Chief
Reagan Masek is a senior entering her fourth year on The Communicator staff and her third year as an EIC of the Midnight Sun. Outside the walls of Community High, you can find her out with her camera or playing lacrosse. She loves to go on drives and walks and you can always find her listening to music. She loves writing, photography and In-Design. She is super excited for another semester on staff and can't wait to see what her final year at Community High holds!