CET Involvement Deadline Approaches
On Monday, Sept. 12, and Tuesday, Sept. 13, in the Craft Theatre, Community Ensemble Theater (CET) will be holding auditions for their fall show, "The Visit".
"The Visit" is a play about Claire Zachanassian, an older, wealthy woman who comes back to her former town with a frightful deal. She wants the townspeople to kill the man who impregnated her and then suddenly left her. In exchange for her wicked proposal, she promises to provide money to the weak town. After deep consideration, the townspeople agree in hopes of improving their town.
If interested in being a part of "The Visit" cast, students can fill out the CET registration form (due Sept. 12), audition form (due Sept. 12), and sign up for an audition slot. Auditions include reading one script from the script selections.
If you want to be a member of "The Visit" technical crew or are interested in a leadership role, fill out the CET registration form (due Sept. 12) and crew form (due Sept. 10).
Auditions can be very nerve-wracking, but luckily CET director Emily Wilson-Tobin has some tips and tricks that might help.
"I would spend time reading through the materials both on your own and out loud. Try lots of different ways of doing it, and maybe find a friend or a family member who you can practice it with. Try to do something active before your audition, whether that's going for a walk, stretching or jumping up and down," Wilson-Tobin said. "There's only so much you can do. It's going to be a nerve-wracking experience. Just know that everybody's in the same boat."
Anyone wishing to learn more about CET can email director Emily Wilson-Tobin at wilsontobine@aaps.k12.mi.us or tech director Sarah Hechler at hechlers@aaps.k12.mi.us, and check out CET's commitment and expectations.
Leave a Comment
About the Writer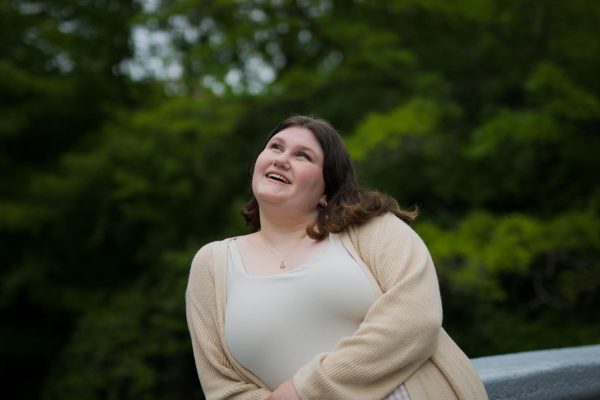 Hannah L. Rubenstein, CET Specialist/Journalist
Hannah Rubenstein is a senior at Community High School. This is her third year on the Communicator staff and second year in her position as CET Specialist Journalist. Aside from journalism, Hannah enjoys stage managing and photographing for jGirls+ Magazine. Her goal for this year is to spend less money at Sweetwaters.