How the River Waters Waver
For almost three decades, generations of FOS students have studied Traver Creek: a tributary that flows into the Huron River. The practice started in 1995 because teachers from CHS wanted students to have hands-on and real-science experience.
"Around 1995, we started Foundations of Science," said Liz Stern, a FOS teacher. "We started working on using [Traver] creek as a field study because we wanted to have our kids doing real science."
Students conducted tests on chemicals in the water, levels of sediment and observed organisms at the bottom of the creek, known as benthic creatures. Results collected by students were sent to the Huron River Watershed Council (HRWC), an organization that collects data on urban streams around Ann Arbor.
From these results over 27 years, Stern hasn't noticed a significant difference in the health of the creek in the data; if anything, it's been getting better.
"We haven't seen a degradation even though Ann Arbor has been growing," Stern said. "I think there's a lot of education that's been going on, and I think that people who live near that watershed are more educated about not putting grass clippings in there [and] allowing vegetative buffers to remain."
While the overall trend of the creek is healthier than it was 27 years ago, the yearly health fluctuates, mostly due to conditions from within Ann Arbor and the surrounding areas. A year of heavy construction will leave a lot of sediment, like dust and dirt, in the Huron River, causing the health of the Huron to deteriorate.
"It really changes from year to year based on what's happening locally around the creek," FOS teacher Courtney Kiley said. "There was a time when Plymouth Road was under construction and there was all this sediment in the creek. We hardly caught anything. If the water is really low or if we had a huge rain event, [that] can wash a lot of the benthics downstream. Every year we see the creek change."
Spills are another factor that add to the pollution of the Huron River. In August 2022, the Michigan Department of Environment, Great Lakes, and Energy (EGLE) was notified of a chromium — a known carcinogen — spill around 40 miles upriver from Ann Arbor. While it was reported to be a several-thousand-pound spill at first, EGLE found it to be much less than predicted.
"…EGLE is now confidentially lowering the original discharge estimate from the Wixom WWTP to receiving waters from 4170 lbs. (3892 pounds in Tribar Fate report, Barr) of hexavalent chromium to less than 20 lbs," stated a report from state regulators on August 12.
While the Huron River still experiences a lot of pollution, it remains the healthiest urban river in Michigan, according to Kiley. And since they started their studies with Traver Creek, both Stern and Kiley have noticed an upward trend in terms of its health.
"In general, Traver Creek is moderately healthy," Kiley said. "We do find some signs that it's between moderate and good health, which I think is all you can expect for a little urban creek."
Leave a Comment
About the Writer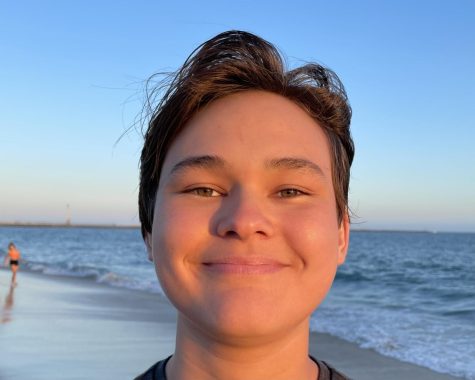 Aidan Hsia, Specialized Journalist News
Aidan is a junior and on his third semester and first semester as the news specialist and he hopes to share as many important stories as he can. When not at school, Aidan can be found listening to podcasts or taking late walks with his dog. He has played classical guitar since kindergarten and loves finding new pieces to play. Aidan is taking french and is excited to (hopefully) take a trip to France this summer.