Heartbreak at Hornet Stadium: Pioneer Soccer District Final Match
On Thursday Oct. 20, the Ann Arbor Pioneer boys soccer team competed in the district championship match against the Saline Hornets at Hornet Stadium. Both teams entered the postseason as two of the top teams in their conference. They had split their contests earlier in the season. The first match was won by Saline 6-4 and the second was won 1-0 by Pioneer. 
"We knew this game was going to be a fight," said Isaac Levey-Czuchnowski, a senior captain for Pioneer. "Saline has always been a team we've had to compete with and we knew tonight wasn't going to be any different."
The Pioneers were in familiar territory. As the defending district champions from the previous year they came into the playoffs with a target on their back.
"We learned a lot from the guys last year," Levey-Czuchnowski said. "The experience has definitely helped us through some tough games this season."
The match was intense and physical from the start. Both teams were able to get scoring opportunities but weren't able to connect. The Pioneers were grounded by solid defensive play from senior Lucas Medina and senior goalkeeper Zach Wilhelm. Captains Levey-Czuchnowski and Lucas Anderson controlled the midfield and were able to push the pace of play, putting pressure on the Saline defense. The first score of the match came in the final minutes of the second half when Levey-Czunchnowski laced a shot into the top of the net from 20 yards out.
"Before I shot, I could hear my teammates yelling and telling me not to shoot," Levey-Czunchowski said. "I was going to pass, but then I thought to myself, 'I'm a senior and I haven't come this far to let younger players tell me when I can take a shot or not.'"
Thanks to commanding play, the Pioneers kept their 1-0 lead for the majority of the second half, but a very controversial handball call on Anderson inside the goal box gave the Hornets a penalty shot. To make matters worse for the Pioneers, while disputing the call to an official, Wilhelm was given a yellow card, which required him to come out of the game and not have the chance to stop the penalty shot.
"Zach is a third year varsity player and I have nothing but respect for him," Levey-Czuchnowski said. "I've always looked up to him and he's a fantastic goalkeeper so it was tough to not have him in that moment."
Saline took advantage of their opportunity and was able to knock in their shot to even the score at 1-1.
"Our team's resiliency this year has been amazing," Levey-Czuchnowski said postgame. "We got an unfortunate call [on the penalty]. But we were resilient and we pushed through that. We played a great game. I'm just really proud of the whole team."
Regulation finished tied 1-1 and the game headed to overtime. After two ten minute overtime periods neither team was able to score, and the game then headed into a penalty shootout to decide which squad would advance.
Despite the Pioneers best efforts they fell just short of victory and were edged out by the hornets in the shootout.
"Sad we had had to go out like this, but this season has meant so much," Levey-Czuchnowski said. "When we started we didn't really have chemistry, and we grew as a team so much and we ended up playing some great soccer at the end of the year. We really just got unlucky with this game. It could have gone either way but I'm just really proud of the whole team."
Former Pioneer player and Community High School student Ian Novar was the assistant coach for the team this year.
"I love being around these dudes, they make me feel motivated," Novar said. "I miss soccer and being able to be with these guys this year and watching them has been awesome, I'd do it all over again."
Despite the loss Levey-Czuchnowski sees this as a chance to learn for the Pioneers, and motivate them for next year.
"My message to the younger players is always give one hundred percent and do what Coach John expects," Levey-Czchnowski said. "Don't let this loss get to you, next season continue with that same fire and do even better than us."
Leave a Comment
About the Writer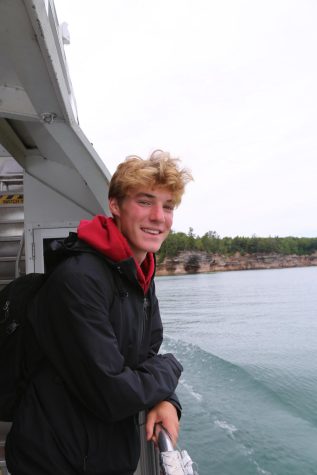 Kurt Hausman, Sports Editor
Kurt is a senior at Community and is entering his third year on staff, his first as the Sports Editor. His favorite part about journalism is writing about high school sports in the Ann Arbor community and being able to hear people's stories. When he's not writing he is playing football as a captain of the Ann Arbor Pioneer Varsity Football team, spending time outdoors with his friends, exercising, or working his part-time job at Stadium Hardware.