From Delong's to Deluxe
Racial segregation in Ann Arbor still exists, and it appears in unexpected places
Outside Teriyaki Time, across the street from Community High School sits an advertisement for "15 New Luxury Condominiums" at 330 Detroit Street. Walking by, I surveyed the ad, curious about how the Kerrytown skyline was about to change. The mock-up depicted an opulent flat-iron-style five-story complex. I pictured someone on a fifth-floor deck, towering over the historic Kerrytown District. I imagined the modern design clashing against the old brick buildings lining the streets of Kerrytown and CHS. Then I looked closer at the figures on the mock-up streets and mock-up decks of this mock-up building: purple yoga pants, business-style pencil dresses, paisley workout shorts, polo shirts and well-fitting jeans. All skinny, all wealthy and all unquestionably white.
In 1964, Robert Thompson and his wife Adeline remodeled a gas station on Detroit Street and opened Delong's Pit Bar-B-Que. The name was created by combining Thompson's nickname, "Long," with his daughter's name — "Dee" for Diana. During its run, Thompson hired employees who were largely displaced workers. The ribs, fries with sauce and sweet potato pies gained popularity across Ann Arbor and attracted customers from many different cultures and backgrounds. Thompson eventually became the longest-running African-American restaurant owner in Ann Arbor before the space was bought by Teriyaki Time in 2001. Now, his historic space will become 15 luxury condominiums advertisers expect to be owned by rich, white millennials.
While Ann Arbor is often considered a vibrant, left-leaning city, its history of racism and segregation still negatively impacts neighborhoods with high concentrations of people of color. From lending discrimination to zoning laws, housing choices in Ann Arbor are limited, especially for lower-income families. And in Washtenaw County, as in the rest of America, lower-income populations often include communities of color.
In the 1940s, racial segregation was often enforced by way of deed restrictions and racially restricted covenants. These covenants stated that no person of any race other than the Caucasian race could use or occupy a home. These practices greatly impacted the development of areas around Washtenaw County, including the historically-Black Kerrytown neighborhood. According to a Washtenaw County Assessment of Fair Housing, high living costs in Ann Arbor push many families out of the city into surrounding areas like Ypsilanti. These high costs can be attributed to the "presence and dominance" of the University of Michigan and its hospital system.
Ann Arbor has long struggled to find developers that want to add affordable housing. This begs the question: do we really need more million-dollar homes for high-income residents? The lack of affordable housing in Ann Arbor may stem from community opposition, the economic pressures of living in a college town or perhaps simply a lack of diversity among realtors/landlords.
Meanwhile, Ann Arbor is consistently rated one of the best cities to live in America. The question is — for whom? A single commercial condo at 330 Detroit Street, in the historically-Black Kerrytown District, will now cost anywhere from $575,000 to $1,275,000. Although these condos may very well add to the architectural interest and vibrance of the city, they are undoubtedly incongruous with Kerrytown's cultural history. And while the city is praised for its public schools, diversity and nightlife, ads like these are a reminder that racism still permeates our city's spaces, and we might not even notice.
Leave a Comment
About the Writer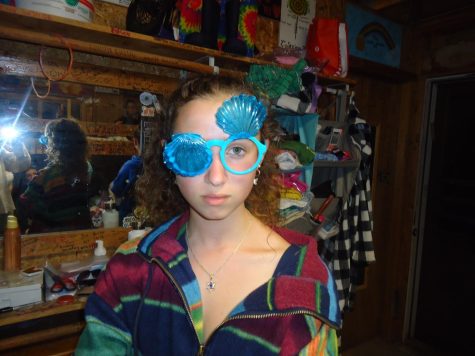 Scarlett London, Web Editor-In-Chief
Scarlett London is a senior at CHS. This is her seventh semester in journalism and her second year as Web Editor-in-Chief. When she's not editing articles or listening to music, she loves driving around with friends, watching movies, and looking at art. She loves dancing and spends time every day at the studio. She also sits on the teen editorial board for jGirls magazine. She has been involved with The Communicator since her freshman year and is excited to return as Editor-in-Chief this year!