The Vial Forum's Can and Bottle Drive is Underway
After bouncing around lots of ideas—ones that would be too time intensive or too expensive—the Vial forum finally settled on their fundraising idea for the Jones historical marker: a can and bottle drive.
"We created something that was too big, which was a really helpful learning experience," Vial said. "It was actually my wife [that said] 'do less time commitment and more money earned.' "
The process is simple and efficient. Students are able to drop their cans or bottles into the bin outside CHS teacher and forum leader Mike Vial's classroom (room 304).
Once all of the cans and bottles have been collected, Vial plans to drop them off at Kroger or similar drop-off location. This transportation plan was a pivot from the forum's original idea of walking cans over to Sweetwaters in Kerrytown.
Gabriel Semrau, a CHS senior and member of the Vial forum, published a slide in the forum bulletin with information about the can drive and how to contribute. Other members of the forum designed posters to promote their goal of 1000 cans by the end of February. So far, around 60 cans and bottles have been collected, and Vial is expecting a few large donations to triple that number in the next few days.
Leave a Comment
About the Writer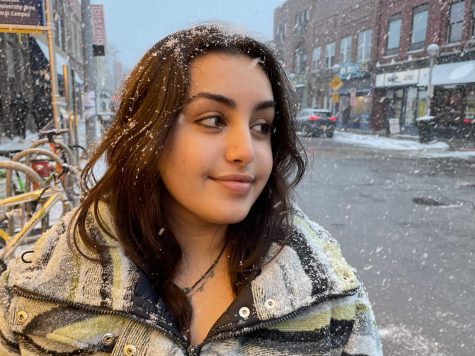 Sana Schaden, Opinion Editor
Sana Schaden is a Junior at Community. This is her fourth semester on staff and her first in leadership. When she's not writing articles in room 300, Sana can be found playing tennis, listening to music in bed, or hanging out with friends. As a Peer Educator for Planned Parenthood and member of Advocates for Youth, Sana strives to find the intersection between activism and journalism.