Students Elect Next Year's Forum Council Presidents
Morgan McClease and Izzie Jacob, CHS juniors, have been planning their Forum Council (FOCO) campaign since freshman year. McClease volunteered as forum representative as a sophomore, because after a year online, she figured it would be a great way to get to know the school better. Now, she has just been elected co-president of FOCO.
"It was really intense," McClease said. "Both groups were very competitive, and it was a really good race."
Amy Boeving and Jonah Klein, both CHS juniors, ran against Jacob and McClease. Both groups spared no expense — posters donned the hallways for weeks, and stickers and buttons were passed around to CHS students at lunches. Meanwhile, slides in the forum bulletin educated CHS about each party's respective goals.
In the end, McClease and Jacob came out on top, with 58% of the student vote. CHS students voted through a google form in the forum bulletin on Tuesday, Feb. 28. When voting closed at 3 p.m., Ryan Silvester, Forum Council Advisor and CHS history teacher, announced the winner to the council after a short speech.
"
We're ready to start being leaders in FOCO
— McClease
Now, McClease and Jacob are ready to hit the ground running. They will begin attending the weekly leadership meetings and shadowing current co-presidents, Matthew Castilho and Zoe Simmons. They are excited to see what goes on behind the scenes and begin taking a "more active leadership role in forum council."
"It's definitely good to see what goes on," McClease said. "And, what we can change — things we can improve. It works like a preview before [we] just jump right into things.
Diversity around CHS is one of the issues that McClease and Jacob hope to tackle next year.
"I think that was our main reason [for running] — trying to actually get diversity in our school," McClease said. "That's just not gonna happen if we don't actually try to make a change. And I really want that to be a thing that we work on next year."
Addi Hinesman, who was just elected Vice President, believes that the biggest way to make change is to increase communication between the administration and the student body. She is also excited to work more on the middle school outreach program.
"Not a lot of people know about Community," Hinesman said. "[But] we're trying to get middle schools to come here, [which] we need to improve the diversity in this school."
As they finish out their school year, McClease, Jacob and Hinesman are excited to learn as much as they can from Castilho and Simmons as they prepare for next year.
"We're ready to start being leaders in FOCO," McClease said. "It's really exciting."
Leave a Comment
About the Writer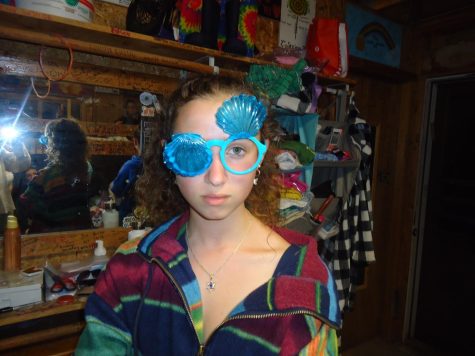 Scarlett London, Web Editor-In-Chief
Scarlett London is a senior at CHS. This is her seventh semester in journalism and her second year as Web Editor-in-Chief. When she's not editing articles or listening to music, she loves driving around with friends, watching movies, and looking at art. She loves dancing and spends time every day at the studio. She also sits on the teen editorial board for jGirls magazine. She has been involved with The Communicator since her freshman year and is excited to return as Editor-in-Chief this year!