More Than the Wins or Losses
The Lads from Leeds' first soccer game was one of Margaret Alpern's favorite memories from their season. A crowd of about 20 friends showed up to cheer the team on, with many of them joining the team on the sideline, and some even playing in the game.
"We were subbing every two minutes," Alpern said. "When people started showing up, we put them in and it was fun to see everyone play."
The Lads from Leeds is a team of CHS students who created their own recreational soccer team. They compete in Wide World Sports Center's coed high school soccer league, which has seven other teams, most of which consist of juniors and seniors. Many of the other teams are there to have fun — like the Lads — while a few others are travel or varsity soccer teams looking for extra competition. The talent imbalance in the league is why the Lads have a less-than-perfect 2-6 record.
For Alexander Marsh, this doesn't matter, as long as they are having fun. The games are low-stress as there are no expectations from anyone on the team. This allows people of all skill levels to participate, which is one of the things Marsh enjoys most about the league. The team needs every player on the field in order to function, and Marsh likes that those other players are his friends.
"Every game, it seems like we find a way to have fun, even if we're losing," Marsh said.
Alpern, who plays travel soccer, enjoys the break from high-stakes competition. She doesn't need to be at her best for every game, and she feels that playing with her school friends makes the game more fun and allows for more chemistry with her team. As Alpern approaches the end of her senior year of high school, she hopes that playing for the Lads with her friends will be an experience that she won't soon forget.
"I'm trying to make more memories with friends and I think [the Lads] is definitely a big part of that," Alpern said.
Leave a Comment
About the Writer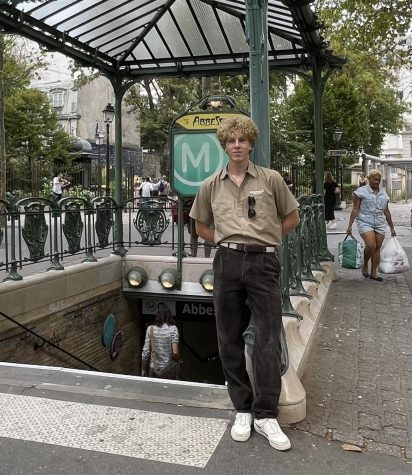 Elliot Bramson, Print Editor-in-Chief
Elliot Bramson is a senior at Community High School. This is his 3rd year on Communicator staff and first as a Print Editor-in-Chief. When he's not at school or doing homework, he enjoys watching and talking about movies, rowing, and listening to music. He spends his summers as a counselor at an overnight camp. He is excited for the year ahead!