Strike at UMICH
This is a developing story and will be updated as more information becomes available.
April 10, 2023
On April 10, 2023 John Smith* stood outside the Washtenaw County Circuit Courthouse as he heard cheering erupt around him. Him and his peers were standing in a soft circle because of the picketing they were participating in moments before. Somebody grabbed the nearest megaphone and let the group know the news.
Judge Carol Kuhnke had denied the injunction and the strike UMICH (University of Michigan) graduate students had started would go on. The fight for a higher wage and better treatment from the University would prevail.
John Smith is a graduate student at UMICH working in the School for Environment and Sustainability. Smith had heard whispers of a possible graduate student strike a month before it actually began. Immediately, he started to learn as much as possible, gathering information by talking to peers and letting professors know of the possibility of a strike. Smith was a part of the Union, but not an active member. Once the strike came to mind, he started to become more active in the negotiations going on between the GEO (Graduate Employees' Organization) and UMICH's HR department.
Smith learned and started to understand what his peers and the GEO were demanding. The strike is asking for a list of demands including a living wage which would be a 60% wage increase. As well as access to out of network gender affirming care and child care that's more extensive than in their current contract.
GEO has a team who interacts directly with HR (human resource department) in the bargaining room where they have bargaining sessions. Smith is not a part of the bargaining team, but has attended these sessions and has been present in the room as bargaining has gone on, but isn't allowed to interact with HR.
"We've got strict rules, people can't even react. We're supposed to keep a poker face while we're in there [the bargaining room], because we don't want to be distracting anybody who's working out contracting," Smith said.
After bargaining since November, with little to no progress felt by GEO, GEO decided to go on strike. It was the last straw and GEO's general assembly finally made the decision.
On March 29, graduate students did not go to work.
At the very beginning of the strike there were emails sent out from the President of the University that produced intimidation among Smith's peers.
"They basically had said we support people expressing themselves but we do not support people striking," Smith said. "There are some really unfair labor laws in Michigan that make striking technically illegal. They were saying they would withhold pay from people."
The President and administration had said they would send out weekly emails to check in on whether the graduate students were working or not. They said if the form filled out said they weren't working then they would withhold pay.
"That's really scary because as it is there's so many people who are already struggling, they're living paycheck to paycheck." Smith said. "It's like there's a lot of pressure on you to suddenly not have any income."
The GEO has been able to attain legal advice which has echoed that it's hard to prove that somebody isn't working just by them not filling out a form. As a collective they have decided to not fill out the form. The GEO wants to see them try and hold everybody accountable for not filling out the form, something unlikely to hold up in court.
During the first bargaining session on strike, UMICH's administration filed an injunction, a court order making a person do or stop doing a specific action. UMICH filed this injunction stating to the court that those on strike are hurting University operations in order to end the strike.
"I think people like to point out that Santa Ono [UMICH's current president] filed for the injunction faster than Mark Schlissel [former UMICH president] did the last time GEO went on strike, which was interesting," Smith said.
Then on April 10, 2023, Washtenaw County Circuit Judge Carol Kuhnke denied the University's request– the strike would go on.
"I also think that being able to do this strike demonstrates the power that a whole bunch of students, who maybe wouldn't know each other otherwise, have over this massive University," Smith said. "There's something really great about being able to show that if we stick together we can get something that we really need regardless of how much money stands in the way, and that was demonstrated in the courtroom today."
A huge motivator for Smith is standing up for his peers, which goes even beyond what the graduate students are asking for.
April 17th, 2023
On April 17, 2023 a state administrative law judge ruled that the GEO had done an "unfair labor practice" by violating their current contract, specifically the no-strike clause, as well as violating Michigan law.
The current contract between the GEO and the University is set to expire on May 1st, 2023 according to the Vice President for Communications Public Affairs at UMICH.
Though the aftermath of the decision was discouraging, the support and persistence has been steady.
"At this point it's even more critical to push for progress in the bargaining room. Morale is still high and we should be able to demonstrate to the University in the next few weeks how important our work is for final grades, Smith said. "On top of that, we've seen plenty of people online contributing to the GEO strike fund to support teaching students who have had their pay docked by the university during the strike."
*Name changed to protect anonymity
Leave a Comment
About the Writer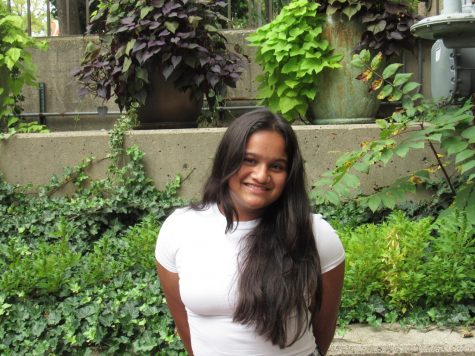 Izzie Jacob, Journalist
Izzie Jacob is a sophomore at Community and is thrilled to be starting her journalism career. When she's not watching Marvel movies or complaining about how short she is, she's usually listening to her playlist, which contains music from Harry Styles to Kendrick Lamar. After school, you can find her rowing for Huron or drinking a surplus of chai. Her favorite part of journalism is talking about issues that don't get enough attention and advocating for the rights of immigrants and women of color.