During the COVID-19 pandemic, Sarah Swider and her kids frequently crossed the railroad tracks to the Huron River.
"I think it's what saved my kids' mental health, being able to … get in nature and explore," Swider said.
Now, the Michigan Department of Transportation (MDOT) threatens to build a fence that would entirely block their access to the river.
"I just cannot imagine not having access to such a beautiful resource in our community," Swider said.
On Oct. 3, MDOT held a public meeting to take comments from and inform the public about a new project: They plan to put in place a black steel fence stretching across the railway track near Huron River Drive. No overpasses or underpasses are included in the budget of this project and MDOT is barred by Michigan law from creating any additional crosswalks.
MDOT started the meeting by giving a short presentation about the specifics of the proposed fence and then opened up the floor for public comments. And comment, people did. About 15 of the nearly 120 people who showed up publicly stated their concerns to the MDOT officials, many of which were quite strongly worded.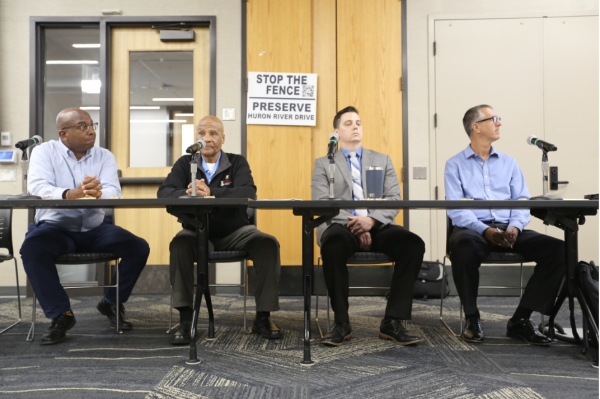 "To tell these people you contacted me is a lie," Katie Scott, the Washtenaw County Commissioner said. "Nobody talked to me and I'm the county commissioner for this district. How come you never contacted me or my other commissioners? How come I had to tell them?"
Peter Anastor, the Director of the Office of Rail for MDOT, expresses why it was important to hold this public meeting.
"We wanted to make sure people had the appropriate information on what this project is about and what the goals and ambitions are for it," Anastor said.
He explains that these comments from the community are not falling on deaf ears.
"[It will] certainly have an impact on what we do, how we do it,… and how those decisions are made moving forward," Anastor said. "It's loud and clear. We'll need to have some more interactions with the community, the city, the county, [and] the Parks Department … then try to coordinate to make sure that what we're doing is … aligned with … what their vision is."
However, a few people were still worried that MDOT was not very receptive to their comments.
"It does not appear that MDOT has worked with the other agencies to make a collaborative plan," Stephanie Preston said. "They really appear insistent and … non negotiating in their desire to build this fence."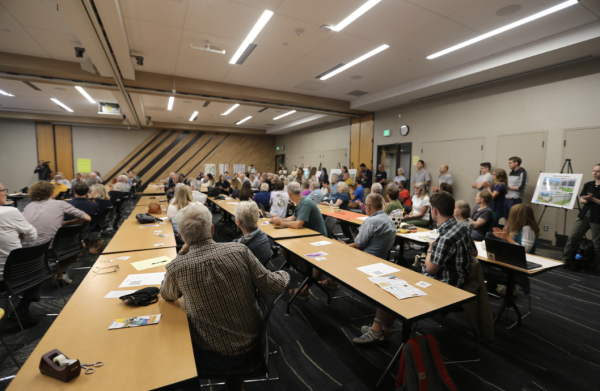 Even students from Community High School are being affected. Present at the meeting was Community sophomore, Evelyn Stansfield.
"When I was in fifth grade, I biked to school occasionally. To do so, I would have to cross the tracks illegally," Stansfield said, recognizing that this route would be cut off to other students who need to bike to school.
"I think high schoolers should know what decisions are being made in their community," Stansfield said. "They should be able to have a say or at least have an opinion about it."
This public meeting was an important demonstration of civic power in our community. The residents of Huron River Drive stood up to the people making decisions for their neighborhood and demanded change. Whether real change will come remains to be seen, but until then, these people will continue to fight.