Sole Transit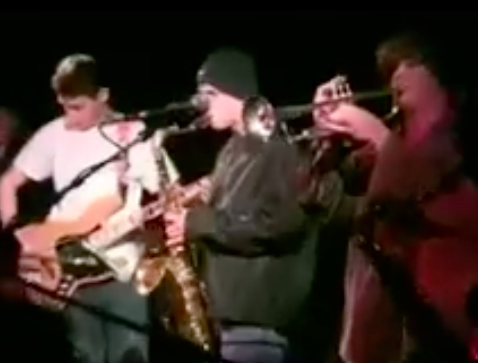 On a grey, chilly Saturday morning in Burns Park, a muffled, soul-fueled tune echoes along Westminster Road—as if someone is playing a record in their house. To a passerby, the sound would be almost identical to that of a record, but after a short while, it stops somewhat abruptly and the different instruments fizzle into silence separately. This is no record– this a band. This is Sole Transit. And if they hadn't stopped the song in the middle, you would have been fooled.
The band crowds into a small practice space in drummer Erez Levin's basement. The room is scattered with amplifiers and spare drum parts, pipes stick out of the ceiling, and a few posters line the walls: a real 'basement'-like room, perfectly depicting the type of space in which all bands begin.
"I'm ready!" screams Will Smith, the band's tenor saxophonist, as he checks the tuning on his Yamaha saxophone with a New York auto-link mouthpiece. Smith and Levin, along with Guitarist Jordan Siden, bassist Dan Sagher, and Trumpet player Leif Gearhart-Hall, tune their instruments and joke around for a few minutes before talking about which song to play. They quickly launch into a groovy, funk-esque tune with a catchy, driving horn riff. Siden's face lights up and he exchanges a knowing glance with Levin as the two musicians nail a complimenting part. The song structure is well-set and perfected, and the arrangement is laid out such that no musician is too heavily featured; their parts blend together to form a unified song. As the song continues, it becomes obvious that these guys are seriously talented musicians.
Siden and Levin formed Sole Transit in May of 2009.
"Erez and I played for about a year together, and we wanted to put something real together," explains Siden, a sophomore at Community High School. Siden and Levin, who is now a freshman at Community, quickly recruited Sagher, a freshman at Greenhills, and Gearhart-Hall, a junior at Community. Smith, a junior at Pioneer High School, is the latest addition to the band, having joined within the last month.
Once they aquired a geographically diverse group, the band established a style; their songs, arranged mostly by Siden, take on a tight, funk feel with jazz-like improvisation. Gearhart-Hall and Smith provide solid melodies as a two-man horn section, and Sagher plays flowing, yet technical bass lines that tend to match or compliment Levin's ambitious, stylized, drum parts—a musical strategy that is pivotal to this type of music, but often poorly executed by young musicians.
In terms of musical education, the entire band is in respectable hands; Siden, Sagher and Levin take lessons at the Ann Arbor Music Center, and every member with the exception of Sagher is in one of Community High School's jazz bands.
Having been a band for less than half a year, Sole Transit has only played one show: the Grassrootz stage at Top Of The Park. The show had a sizable turnout, consisting mostly of local adults and a number of the band's fans.
"I was surprised," remarks Siden, "we got a lot of good feedback. I think it's going to go places."
Sole Transit remains strong and is quickly on its way to the top of the Ann Arbor teen entertainment world. They get along well, they are good friends, and they are excited and motivated. Their attitude reflects their potential success, and their talent is far beyond their age. Even as a relatively 'newborn' band, it is safe to say that with this type of energy, it won't take much for these guys to funk up this town.
[quicktime]http://the-communicator.org/wp-content/uploads/2009/11/Sole-Transit-live.mov[/quicktime]