Baron Glassworks Fires Up Local Studio Art Scene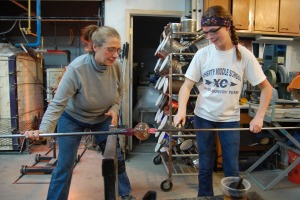 Hang on for a minute...we're trying to find some more stories you might like.
Hot, dangerous, delicate and beautiful.  At Baron Glassworks in Ypsilanti, MI, local artists are fusing together their ideas and inspirations to form functional, and aesthetic art.
Annette Baron, sole proprietor and founder of Baron Glassworks, has been blowing glass for 23 years. "I have had the studio for 16 years. It was 1997, and then I lit the furnace Nov. 24 1998. This furnace has been on ever since," said Baron. Despite being an active artist herself, her focus has shifted largely towards inspiring and teaching others the skill, "If I wanted a studio for my own work, I could fit it into a garage," commented Baron.
Owning and operating a studio that not only provides local artists a place to do their work, but also teaches lessons, is truly a labor of love for Baron. "I could operate in a very small space, but when I decided to build a studio, I decided, 'in for a dime in for a dollar'.  I really thought that Washtenaw County would be a great place to offer this skill. And honestly, I blow less now that I own a studio than before. What I found–and I knew the hours would stink and all of that, and that the money wouldn't always be good– but what I didn't think was that I might be too tired to do my work."
Despite the long hours and hard, often sweaty work, Baron continues to be influential in bringing glassblowing to Southeastern Michigan. "It's growing bigger and bigger around here. There are a number of studios in the area, but they're solo studios. There's a big community of glassblowers in Southeast Michigan. They say glass is in Seattle, well, when they drop off the coast in the next earthquake, they'll say it's here," said Baron.
Stop by sometime and become part of the community. Glassblowing isn't easy to learn, but the time put in will be rewarding. You might get a few burns along the way, but when you're finished, you'll have had a truly unique experience.

About the Contributors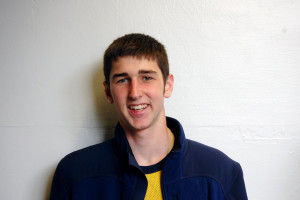 Graham Gerdes, Staff
Graham Gerdes is a new member of the Communicator staff. He enjoys taking to business owners and distinguished members of society and relating their stories...