Bats on the Roof
By the end of this year, Community High School will be both a learning center for students and a housing center for bats.
This statement may seem startling, especially to those terrified of bats. However, the bats will mostly be roosting during the day, and will only be active at night. Not only will the bats not be visible, but the roosts are very important for them. It can be hard for urban bats to find roosting sites in the middle of a city. Many urban bat populations are on the decline. To help the bats of Ann Arbor, the Ecology Club of Community plans on creating a home for bats on the side of Community's building. And that's only one step on the agenda.
 "Ecology Club is essentially a science club for kids who are interested in science and outdoors," said Courtney Kiley, a science teacher at Community. This is Kiley's fourth year leading Eco Club.
One of the main goals of Eco Club is beautifying Community. The club's greatest success in this aspect has been installing a rain garden in the back lawn. Though the garden may appear to be weed-infested, Kiley explains that most of the plants in the garden are supposed to be there. This summer, a pair of American Goldfinches nested in the garden.
Without context, making Community a home for bats seems like a strange idea. Nonetheless, accomplishing that is one of the main goals of Eco Club this year. "We have a bat house to install on the roof at Community," Kiley said. This bat house is a small structure that can be installed on the roof of a building to provide shelter to bats of the city. If the bats need a change of scenery, they will be in luck: "We also want to teach elementary schoolers about urban bats and give them a bat house to install."
Another key project that will take place is salmon-raising. "In the late fall, we get two hundred eggs from the Michigan DNR (Department of Natural Resources)," Kiley explained. "We raise them until they hatch. Around May, when they're about the size of your index finger, we stock them into the Lower Huron River so they can live in the Great Lakes." Eco Club has successfully raised salmon for the past three years.
Eco Club doesn't forget to plan fun activities for itself. A much-loved annual tradition is the Halloween Huron River canoe ride. Eco Club members ride canoes in costumes, and various costumed people from the shore chuck candy at them. Last winter, Kiley led a field trip for dedicated Eco Club members to the University of Michigan Biological Station in Pellston, Michigan. Pellston was a great success; junior Lydia Evans, who is in her third year of Eco Club, fondly recalls the trip.
"The Pellston trip was really fun," said Evans. "On the Pellston trip, Courtney and Marcy (McCormick) and I took a hike on the snow, and that was really beautiful."
This year, fellow science teacher Marcy McCormick will join Kiley as a co-leader. McCormick was introduced to Eco Club at the Pellston trip as a chaperone. "I had an opportunity to go on the trip to Pellston last year, and it was super fun, and I just wanted to get more involved with it this year," said McCormick. She plans on continuing co-leading in the future; Kiley assures her there is no turning back.
McCormick hopes to introduce an annual Earth Day project to Eco Club. Overall, she's excited for all of the other projects she will embark on with the club.
According to Eco Club members, joining Eco Club requires some commitment, but the club is not too intense. "It's a medium-commitment club," said junior Mari Milkie. This is Milkie's third year in Eco Club.
Kiley recommended the club to any students interested in science. "If you really like science and being outdoors, and talking about science, it's a good place to find like-minded people," she said. Evans agreed, recommending the club to "anyone who is interested in environmental science, and doing cool things … with cool people."
"People who like Courtney," added Milkie, with a laugh.
Eco Club meets on Mondays at lunch in Kiley's room.
About the Contributor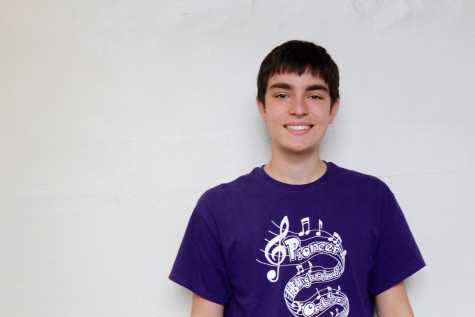 Matty Hack, Editor-in-Chief
Matty is a CHS senior and this is his third year on the Communicator Staff. He is a co-editor-in-chief and can often be found correcting pedantic punctuation errors. Matty also enjoys birds, playing violin and piano, science and petting his cats. He is pro-Oxford comma.