Marin Scott on Blogspot
Marin Scott has style — and she's had it, well, since first grade. Now, the Community sophomore (Mo's forum) is spreading that style on the internet. Marin Scott's on blogspot.
"I've always wanted to blog," she said and after her trip to New York City in July, a mecca of fashion, Scott got inspired. Upon her return, she quickly set about creating a space where she could share her ideas.
"I can't sew or anything, so I might as well write about outfits." she said. "There are so many different people [in New York] with so many different fashions, that have just a range of simplicity to something very flashy and complex. I just realized how much fashion could tell about someone." The great stores of Soho and Fifth Avenue triggered Scott's inner fashion guide out and onto the web. "What's In Now" is the title of her site, started in September.
"I'm just really doing my blog because I like it," she said. "I'm writing my blog from my own fashion sense, I don't expect everyone to like my blog or agree with it, because everyone is different," Scott said. "The meaning behind all of my posts is to just be you and add your own twist to the baseline outfit ideas."
On the blog, Scott discusses simple fashion tips, such as don't mix stripes with other stripes and talks about feature accessories (necklaces and the like) and outfit combinations (Sweaters, collars, etc.). Seasons are also important to Scott's style sense, with the year divided into fall, winter, spring, and summer.
Playfully written and definitely embodying Scott's style, her blog is a good place for someone looking for some outfit tips. A post published on October 14 talks about graphic tees and how you can use them to show your spirit: A window to your personality. And, as she said it herself: "…maybe some little hottie will have a connection with it."
Money also plays a role in Scott's advice. Scott attempts to find the best ways to achieve an outfit that is in a magazine and the most thrifty way to make it possible. She always notes the prices in her features about accessories or styles. Scott also finds the cheapest or most convenient retailers, writing them up right in the blog for the readers' convenience.
In the future, Scott wishes to write for a magazine herself. "My dad is a language major so I've grown up around a lot of editing and a lot of language arts, and I just love languages. I feel that's what I'm best at." And it seems she's onto a great start. All the best Marin.
About the Contributor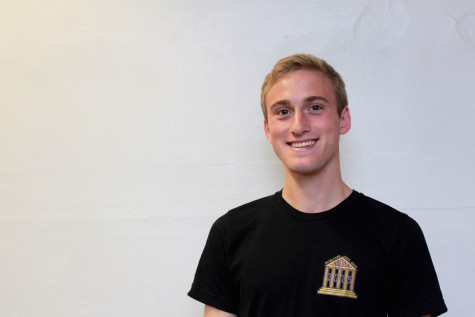 Matthew Ferraro, Editor-in-Chief
This is Matthew's third year on Communicator, and he's eager to get down to work. Communicator ranks among his favorite things, with crew and the oboe as well. This year he is a co-editor-in-chief.