Why I Thrift
My ideal Saturday morning is usually spent thrifting. I wake up, go grab breakfast at one of our local coffee shops, and then head to a thrift shop. I love the unknown aspect since I have zero idea what I'm going to find – only the hope of discovering interesting clothes that fit the season and my style. 
The love I have for thrifting came from my parents. Growing up, we would thrift a lot because it was a cheaper and more sustainable option. My sister and I were growing so fast that clothes weren't needed for long periods of time. As I got older I started to thrift for fun and realized how much more interesting and unique the clothes were compared to shopping at the mall. Currently, my favorite pieces are almost all thrifted — more than half of my wardrobe is made up of secondhand clothes. As a teen who doesn't have a lot of money, but still wants to have a diverse closet, thrifting is a perfect activity. 
Thrifting isn't only a hobby, it's a way to practice sustainable living. According to a 2018 study by Quantis, the apparel and footwear industries are responsible for almost ten percent of global climate impact. Many of these brands are cheaply making trendy designs with little or no care for the environment or the workers, which earns them the label, "fast fashion." By not supporting these brands directly and instead finding alternatives at the thrift store, I am decreasing my carbon footprint, keeping clothes out of landfills and making a political statement about what/who I support.
Although thrifting is a great way to reduce personal global impact, I believe there also needs to be more laws and regulations in the clothing industry because fast fashion is thriving despite having a continuously bigger impact on the environment.
In Ann Arbor, many of our local thrift stores are non-profits focused on giving back to the community. Kiwanis, a very popular thrift store located on Jackson Road, stated that they have distributed more than nine million dollars in the past 100 years of operation. I like knowing that my money is going toward the community instead of major corporations that continue using cheap labor and unsustainable practices.
Leave a Comment
About the Writer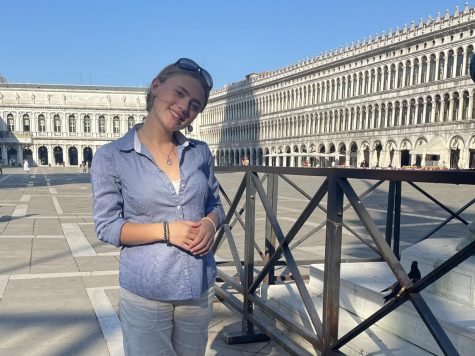 Leila Durrie, Journalist
Leila Durrie is a sophomore at Community and this is her first semester on staff at The Communicator. When she's not focusing on school or cuddling with her dog, you can find her on stage doing musical theatre, working on a video project, singing, or listening to music. Leila loves traveling and she is always up for an adventure.