Thrifting is more than just searching for cute clothes at half the original price, for some, thrifting is a part of what defines them.
Kari Rodeno, 21, an employee at Crossroads Trading Co. in downtown Evanston, has had a passion for fashion for as long as she can remember.
"I've loved fashion my whole life," Rodeno said. "I'm very passionate about things that revolve around creativity and art."
In high school, Rodeno found she didn't "tap into fashion" as much as she had as a kid, letting go of the passion while she focused elsewhere. But when she began college at Indiana University, later transferring to Columbia College, she was determined to take fashion seriously as a career.
"Oh, gosh, fashion just consumes my life, it's all I think about," Rodeno said.
Thrifting has not only become a way for Rodeno to grow her style, but she has found it to be a better alternative than contributing to the growing fast fashion waste problem.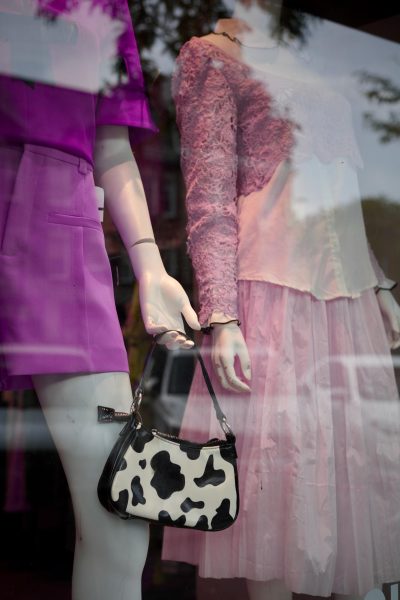 "I find fast fashion disgusting," Rodeno said. "It's frustrating to know that people know what's going on behind the scenes and still continue to contribute to waste."
Em Racine, 32, owner of Outfit Kitchen, a second-hand vintage online shop, is also an avid thrifter.
Racine loves to thrift for two reasons: she loves sustainable practices and she desires to dress uniquely.
"I like knowing that what I'm wearing is what no one else is wearing," Racine said.
Having known about the harmful effects of fast fashion, Racine finds power in taking herself out of the buying cycle and encourages others to do the same.
"Fast fashion adds so much to landfills and waste, and there's already enough clothes for everybody," Racine said.
At a young age, Racine would spend her time reading Teen Vogue and then trying to recreate the looks in the magazine.
"I always knew my style set me apart from everybody else," Racine said. "Fashion is part of identity."
About 15 years ago, Racine began thrifting in high school and has since then fallen in love with the activity, feeling as if she has been able to unlock a whole new side of her style.
"You can say who you are using what you wear," Racine said. "Fashion gives you a voice without having to say anything."