How Do You Find Clothes Online?
Three CHS students share their process of searching for and buying clothes online.
Lila Fetter, Ionie Steudle and Claire Theiss struggle to decide what store to buy from online. They find that quality and efficiency are often at odds with each other, making shopping a harder process.
Claire Theiss works to balance sustainable shopping and her budget. She tries not to look at Shein or Amazon, and prefers to shop at smaller businesses. She thinks it is important to only buy pieces she really likes because scrolling through pages of clothes can lead to overconsumption. Theiss has the money and opportunity to do this, but she knows that not everyone does.
Theiss thinks it is good for smaller businesses to have an online platform because it allows their business to reach more people. It can be hard to get to a local business in person, especially if they have only one location. Steudle agrees.
"Locally owned businesses are not going to be everywhere," Steudle said. "So having the option of being able to order from wherever and ship to your house is an amazing thing we got out of shopping online."
"
Locally owned businesses are not going to be everywhere. So, having the option of being able to order from wherever and ship to your house is an amazing thing we got out of shopping online."
— Ionie Steudle
Steudle prefers buying from these small businesses. She finds that homemade products are usually better quality, plus she feels better supporting the people making those items. Another part of her reasoning is the societal and environmental impact of fast fashion. 
"Urban Outfitters is always gonna have those pieces and I don't think it's worth spending the same amount of money for clothing that's not supporting a good cause," Steudle said. 
Fetter finds online small businesses can be unreliable. In spite of that, they also want to try to shop from those more. One way to do this is to buy online from businesses they found and liked in person. For example, Fetter and their mom found a booth at the art fair they liked, and bought a pair of earrings there.
"We thought, 'These are really awesome. We need to go back,' and it took us forever to find her. Then we found out she had a website and we could have just ordered online," Fetter said. 
That jewelry store has since become one of Fetter's favorite stores. 
Ionie Steudle finds clothes on Instagram ads. The algorithm has made the pop-ups specifically targeted to her preferences. While the products may be appealing, the quality is less so.
"Either it's super good quality or it's already falling apart," Steudle said. "There's no in between."
Fetter prefers to avoid that issue by looking on their own, which also allows them to choose places they think are important to support. For example, they like to support a queer business owner who makes crochet pride flags. That said, they still find themself buying from Amazon. 
"Every time I'm like, 'This is the last time,'" Fetter said. "Or if it doesn't come in time, 'This is karma for shopping on Amazon.'"
Fetter prefers to buy clothes in person because they like to physically feel the fabric and try on the clothing. They also like the experience of shopping: going with friends and trying stuff on. A lot of times it's more expensive, so Fetter will find a particular style they like, and order it online where it's generally cheaper. But they try to shop in person as much as they can because of shipping costs and carbon emissions.
Theiss also prefers to shop for clothes in person. She finds sizes online aren't consistent enough for her to trust something will fit correctly. Additionally, most earrings she bought online have broken. 
Steudle's perspective is that she can find more clothing options when online. She can search for the items she wants, and then more will appear on her feed if she buys them. In the end, though, Steudle prefers to buy clothes and jewelry in person. She enjoys going thrifting and trying things on to see what works. Because she likes both silver and gold jewelry, she likes to see the pieces against her skin tone to decide if they work. 
That said, Fetter and Steudle have memories attached to objects bought online, but those are from loved ones. . Fetter's favorite item is a floral dress they love to wear. Their sister got it and it didn't fit her, so she gave it to Fetter. 
For Steudle, it's a gold moon bracelet. Her friend bought three bracelets—a star, a moon and a sun—for her three friends.
"It's very symbolic of our essence and how we see each other," Steudle said.
"
I want to do my part by trying to thrift and support small businesses as much as I can. I think it's best that I [practice sustainability] because there are many people that don't have that privilege." 
— Claie Theiss
While shopping online can be inconsistent, leading to broken earrings or too-small dresses, Fetter, Steudle, and Theiss will continue to search. Because in the end, they can connect with more businesses that they like to support. 
Leave a Comment
About the Writer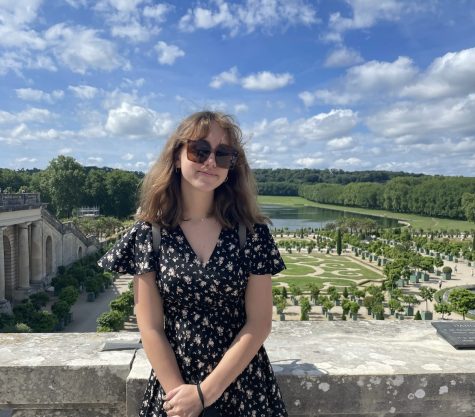 Abbi Bachman, Fashion Editor
Abbi Bachman is a junior and this is her third year on staff. Outside of school she likes to read, overanalyze tv, knit, puzzle, and see friends. She is looking forward to the activities coming up this year.