Community Students Register to Vote
The League of Women Voters (LWV) believes that every eligible voter should have an equal opportunity to register to vote and cast their ballot. They also know that voting can be an intimidating and logistically confusing process for those who are newly eligible. Americans under the age of 30 remain extremely under-represented in the electorate, with only 40% of eligible voters in the age group voting in the 2016 presidential election — a much lower rate than any other age group.
The LWV has volunteers all across the country helping to register hundreds of thousands of people to vote. They are focusing on hosting registration drives at high schools and community colleges, which are common locations to reach large numbers of unregistered voters. The LWV's goal is to empower young people of all backgrounds to stand up, use their right to vote, and participate in our democracy — starting with future voters still in high school.
On Thursday, April 11, the LWV hosted a registration drive at Community. They helped many CHS students, aged 17 and a half and up, register to vote in the next election.  
"It was really interesting having the League of Women Voters explain to us why [voting] is so important," CHS senior Eve Shikanov said. "They had all of us stand up, then more than half sit down, to show that only a small fraction of our age group actually votes, which is crazy to me."
This year, many shifts have been made to allow easier access to the polls for young people.One of these changes allows registration until voting day, instead of stopping it a month before.  According to the LWV, long term change is made possible through encouraging lifelong civic engagement from young people.
"The earlier we are in the system, the more times we can vote throughout our lifetimes," Shikanov said.
Shikanov was blown away by how straightforward the process truly was.
"It was such a simple process: they handed us a sheet, we filled it out, gave it back to [the LWV volunteer, and she said, 'looks good! For the next election, you're ready to vote!'"
At every election, elected officials make important decisions regarding the future of healthcare, energy conservation, and other issues — all which are influential to the lives of young people.  The League of Women Voters recognizes how crucial it is for young people who are eligible to vote to go out and make their voices heard, because their futures depend on it.
Leave a Comment
About the Writer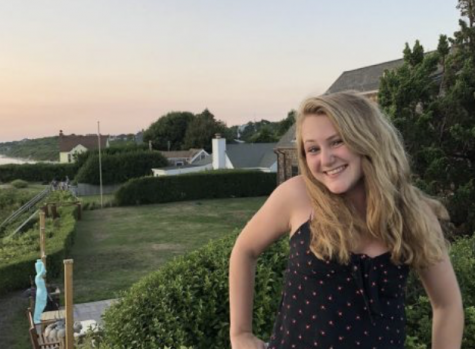 Chava Makman Levinson, News Editor
Chava is a senior, and is so happy to be starting her second year on staff and first as News Editor. Outside of writing articles, she loves hugging her dogs, collaging in her journal, and drinking way too much coffee (in reusable cups, of course). She joined the Communicator because she believes in the importance of telling peoples' stories, and in staying informed about what is happening in the world around you.